Open Letter by Investigative Journalist Sherri Kane, as a Victim of Attorney Paul J. Sulla, Jr.'s Property Theft Scheme
My domestic partner Leonard G. Horowitz and I, are victims of non-judicial foreclosure fraud, mortgage fraud, illegal transfers of our mortgages and notes, and theft of our real property and title by organized crime.
Our case involves Attorney Paul J. Sulla Jr and his shill, Jason Hester, with the complicity of Attorney Stephen D. Whittaker of Kona, HI.
Mr. Whittaker has lied and perjured himself and has hoodwinked Judge Ronald Ibarra and his subordinate Judge Melvin Fujino to grant our 17 acre property to a homeless drifter named Jason Hester, who Mr. Whittaker claims to be representing. Mr. Whittaker, however, is being paid by the concealed real party of interest, Paul J. Sulla Jr. Mr. Hester is being used as a shill for this drug dealing attorney Sulla, who illegally manufactures and traffics drugs within a racketeering enterprise operating on the Big Island of Hawaii.
Sulla runs an illegal ayahuasca (dimethyltryptamice, DMT-Schedule I, narcotic) "church" north of Hilo, on the Hamakua coast. This is a "religious front" that strong evidence and multiple affidavits from victims and witnesses indicates is a money laundering operation.
In our case, Mr. Sulla made Mr. Hester the supposed "Overseer" of another sham "church." Sulla used Hester to stay an "arms length" away from being discovered and being liable. Hester is judgment proof, and has a criminal record. Sulla has used Hester to steal our 17 acres of land, plus a large house that we purchased as a "Bed & Breakfast." But that "commercial property" could never be used commercially due to the fraud in the sale and continuous lawsuits Mr. Sulla and his so called "clients" have waged against us since 2005. The fraud in the sale of the property was committed by Sulla's personal representative–the seller, also a convicted felon, Cecil Loran Lee.
Mr. Sulla was disqualified in our case, and in other cases. He was publicly censured by the Supreme Court of Hawaii for "reckless arguing." Sulla was disqualified in our U.S District court case, so Sulla could no longer represent Hester. So Sulla hired and paid for another attorney, Whittaker, who apparently you pay a fee to and he gets the job done!
Mr. Sulla has been wearing many hats in our cases against him, including attorney, auctioneer, debt collector, "church" trustee, Hester's fiduciary, etc. Sulla even gave Hester a 50K "loan" on paper to end up with our Property. (See exhibits below.) Sulla knew Hester would never pay back this "loan" so Sulla would be able for foreclose on the property (again, for a third time!)
Sulla and his "clients" have foreclosed on our property twice already. While the first "judicial" foreclosure case was still happening, Sulla foreclosed non-judicially on the same property. The first judicial foreclosure case is on appeal after a Fifth Amended Final Judgment (i.e., the 6th Final Judgment) was issued by Judge Ronald Ibarra. In that case, after the jury awarded us $200K for Lee's fraud in the sale of the property, the judge "vacated" our jury award. In other words, after nearly five years of litigating and losing more than $3M in damages, my partner, Leonard, beat Lee's frivolous judicial foreclosure, only to have Ibarra give Horowitz nothing but another seven years of heartache. Leonard won the jury award for fraud in the sale of the property, as well as a denial of foreclosure since Leonard had paid all the money when it became due. This is even ruled in the Fifth Amended Final Judgment, but the same Judge Ibarra gave Sulla nearly everything Sulla asked him for, including substituting Hester as a "sham plaintiff" to take the place of Lee, after Lee died. Then Sulla was able to bring another case against Leonard and I without even appealing the first case! That first case is still open. And then, when Leonard and I went to court to defend our property in the second case, Sulla schemed to block our "standing" to plead in our defense. This is a violation of our 14th Amendment rights to due process. It also violated res judicata, and many laws. But the judges ignored tons of "material" facts and evidence, to grant Sulla a summary judgment, giving away our title to Hester (really Sulla.)
Ibarra signed the 5th amended final judgment in (Civ. No. 05-1-0196) after Ibarra signed the conflicting final judgment in case No. 14-1-0304.) We believe these conflicting final judgments are simply a ploy to confuse everything and everyone to give Sulla our property. The reason for the 5th amended final judgment is Judge Ibarra kept violating Jenkins in the "first filed" supposedly "controlling" case. Not having given us an appealable judgment kept the conflict going, so that Sulla could move through the 2nd case and get a Writ of Ejectment.
We have been dealing with these kinds of judicial corruption and fraud upon the court since 2008. After Leonard prevailed in the original case, as mentioned, the nightmare was supposed to have ended. Instead Lee and Sulla evaded service and broke the law requiring them to release our mortgage. Judge Ibarra then allowed Sulla to overturn our jury award. Then Sulla, Ibarra and Whittaker violated our rights by not allowing our "standing" to plead in defense of our interests.
Where in history have you heard of a Fifth Amended Final Judgement or a 6th Final Judgement? You can't find one in Google Scholar. It doesn't exist among more than a million cases listed.
Also we have another parallel case before the U.S. District Court, on Judge Seabright's desk, involving the same parties. (Sulla and Hester are the defendants.) There too Sulla and Hester are being accused of violating our civil rights. Judge Seabright put that case on administrative hold pending what happens in 0304 and 0196. Now he is having to consider opening the case again due to the fiasco and "void" judgment that came out of the 0304 court.
In the two current competing circuit court cases, our attorney is Big Island County Councilwoman Margaret Wille. Ms. Wille is attempting to diplomatically let the court know that injustice and fraud upon the court is happening in our case. She has informed the courts about Mr. Sulla's proven forgeries, and his false claims that Hester was an heir to the seller. You would think that the judges would have pause after Margaret let them know about Sulla's fraudulent filings, but the complete opposite is occurring.
It appears that the judges have been hoodwinked because they continue allowing Sulla to maliciously prosecute us, without being added as a real party of interest. The judges have remained willfully blind to the fact that Sulla has fraudulently transferred our mortgage, notes, and title to sham entities he made parties. The judges have denied us a trial, to prevent the case being heard on it's merits. This is in disregard of the original case 0196, where the same judge Ibarra ordered Leonard to pay the final balloon payment, which he did. The judge then allowed the case to continue with several more amended final judgments by Sulla. With each "final judgment" Ibarra changed the "findings of facts" and took more and more away from us. We have been completely railroaded and defrauded by Sulla and his co-conspirators. Ms. Wille thankfully stepped in recently to hopefully stop this insanity.
There are many other victims of Sulla coming forward at this time. One has even claimed that Sulla was involved in murdering her elderly father who lived in Kauai. She alleges that Sulla stole the man's nest egg that was to have been given to his children's after he died. But Sulla came in and placed the family's inheritance into a trust Sulla created.
The prosecutors on the Big Island and Kauai have remain willfully blind to all the mounting evidence. Prosecutor Mitch Roth knows all about Sulla but doesn't want to rock any boats as though he is either afraid of the drug mob, or being bribed to remain willfully blind to aid and abet the crimes.
Our current State cases on appeal include 14-1-0304, and 05-1-0196, both in the Third Circuit Court, Hawaii
We also have a pending grand jury investigation now open that includes the aforementioned judges, Roth, the named attorneys, and others on other islands. We are currently waiting to receive a summons to testify.
We have also pleaded for an FBI investigation.
Please see the filings linked below from our attorney Margaret Wille for the latest hearing Feb 26, 2016, opposed by Judge Melvin Fujino who had his decision written up before we arrived in court. We know this because he read a lengthy statement prepared prior to the hearing.
Also included are the latest filings by Ms Wille for another attempt to stay our case. As of now Sulla and Whittaker are railroading us in violation of due process in the hopes they can get this done before any in authority sees their crimes.  Judge Fujino just railroaded Ms. Wille, as Ibarra and also Judge Strance had done to us. Fujino allowed Whittaker to commit perjury and lie to the court, as we have now evidence of in court transcripts we purchased at great expense.
Judge Ibarra appears to be protecting Leonard's first attorney (now Judge Glenn Hara) in 0196 who we know committed malpractice. Then there was evidence tampering, witness tampering and obstruction of justice happening before and during the trial in 0196. We are holding clear and convincing records of this as well.
Most incredibly, no court has ever questioned sham plaintiff Hester's standing. The burden is on the plaintiff to prove his standing and legal interest in title, but not in our case. This is a violation of case law, including Deutsche Bank vs The Williamses.
Linked below is also Sulla's sham corporation paperwork. He created the "Gospel of Believers" "foreclosing mortgagee" using forged and altered documents. He then used the fake "church" to conduct his illegal auction/non-judicial foreclosure of our property (These actions violated Hawaii Revised Statutes 667-5, 651-c, 480-2; 480D, and 485 laws, among many others.) Sulla made many obvious blunders, that the courts ignored. For example, the fake corporation did not legally exist yet when Sulla transferred our mortgage and note into it. Also, Sulla included forged signatures, copied and pasted signatures of the Seller Lee, who was on his death bed in Arizona when Sulla claimed Lee went before a Hawaii notary. Dates were obviously altered on these records. A simple examination of the photocopied pages 6 and 8 of the Articles of Incorporation for the "Gospel of Believers" reveals Sulla altered the dates by adding a "2" before the number "8" to falsely allege the 28th was when Lee signed, even though Lee was thousands of miles away and dying on that date. The fake Articles of Incorporation for the "foreclosing mortgagee" also names "Gwen Hillman" (who is Lee's sister) as a "scribe" for the fake "church."  But instead of where she is supposed to sign, there is the same forged signature of Lee, pasted there with the date showing the "8" not "28." These "official records" that we obtained from the State's DCCA are so messed up any fool can see these are "altered" and illegal documents. Yet, Third Circuit Court Judges Ibarra, Strance, and Fujino accepted this fake instrument and then gave away title to our property in service to the criminals.
Also attached is the notarized document by a forensic handwriting expert, Beth Chrisman, verifying what I am saying here–Sulla's forgeries of that sham incorporation paperwork.  Ms. Chrisman is willing to testify as a witness to the altered signatures.
Two years later, on June 14, 2011,  Sulla transferred our title into Hester's personal name and gave Hester a 50K mortgage on paper. That contract states (in paragraph 3)  that if Hester doesn't pay property taxes, then Sulla can foreclose on him. Sulla knew full well that a homeless drifter could not afford to pay almost $6-10k a year in property taxes.
We are currently on a payment plan with the county tax office to pay the taxes since our name has been illegally transferred off the tax records, into Hester's name. We are making payments of $250 per month to avoid having the property go to auction. Sulla made one tax payment right before Ibarra unlawfully granted him summary judgment. Before Sulla had illegally transferred our notes and mortgage, we had all of our taxes paid up to date.
Sulla also falsely claimed that Hester was the seller's nephew and a rightful heir, but we hired Christopher Baker's Private Investigation Service to check this out. (See attached.) Baker discovered that Hester had no blood relation to the seller Lee. So then Sulla changed his claim and said that Hester was Lee's grandnephew, and again this was false.
Attached is a letter placed into the Federal court corroborating the above evidence that Sulla's church created for supposedly Hester was fraudulent. These two letters were written by seller Lee's criminal cohorts–Herbert M. Ritke and his son Ronn Ritke. These two men were attempting to get out of being sued by us for their complicity in the fraud and theft. Sulla used the Ritkes' address to claim that was the address of the fake church that, supposedly, Lee formed in order to steal our property. When the heat got turned up, the Ritke's threw Hester under the bus, especially since Lee is now deceased.
Also Seller Lee was a known forger and felon, and Sulla knew that from court records and Horowitz's correspondence. Lee had a 85K federal lien on the property for growing marijuana, and he even had a landing strip next to the property to get the pot off island. Before Leonard came along Lee attempted to sell the same property to Philip Maise and his domestic partner by fraud. Maise won nearly $225K in two lawsuits against Lee for fraud. Lee attempted to extort Leonard after Leonard agreed to allow Lee to take 85K out of escrow to pay what Lee referred to as a "high interest loan," omitting the fact that it was money to pay off the government's lien.
By the time Leonard figured out he was being extorted by Lee, he already had too much money invested in the property to pull out of the deal.
Leonard's mortgage payments to Lee were eventually garnished by Judge Nakamura, and ordered to be paid to Maise. Leonard had a $550K title insurance policy on the property, with Island title company arranged through Stewart Title Company. Island Title Co. was complicit in this crime, because they knew Maise and Lee were in legal battle, but they failed to disclose Leonard that Maise had already encumbered the property when Lee sold the property "free from encumbrances." Stewart Title Co. then denied coverage. They breached their contract and blamed Leonard for losing the title!
Island Title Co. acted as though they were part of a crime syndicate. It seems as though they set Leonard up to go down. They not only concealed Lee's encumbrance on the property; cause after all, Lee arranged to have Island Title Co. administer escrow and the money,  but Island Title Co.  referred Leonard to Attorney (now Judge) Glenn Hara, because they wanted the money from the sale. So Leonard went to Judge Hara for Hara to draft what he titled, "The Agreement for Closing Escrow." Hara drafted this document by dictating to Leonard precisely what the Agreement should say, and Leonard wrote it down verbatim. Beforehand, Hara reviewed all the problematic closing agreements, and his handwriting was all over those original files (attached). The Agreement for Closing Escrow should have been called "Addendum to the Mortgage." That malpractice cost Leonard a lot of money, because of the fiasco at trial, when Hara made a secret agreement with Leonard's lawyer, John S. Carroll, not to show up as a witness, and also conceal "The Hara File." All that became problems for Leonard when Lee altered that agreement, and cut and pasted signatures on the altered document that omitted Leonard's indemnification clause. Lee altered the Agreement so that he could foreclose, keep Leonard's money, and get the property back as well.
Because Hara is so heavily involved in the evidence tampering, witness tampering, and obstruction of justice, Ibarra had cause to protect his subordinate judge ruling outrageously and consistently against Leonard.  This enabled Sulla to walk all over us.
That Agreement for Closing Escrow was written to protect Leonard by stating that Lee could only foreclose if Leonard did not make timely mortgage payments, which Leonard did do; and that "certified true original Agreement, of course, remained at the title company.
But no matter! Lee contacted the property insurance company and had Leonard's policy cancelled, which he could not revive, because Lee had arranged the "residential" policy, and Lee reported Horowitz was using it commercially; and you could not get commercial property insurance in a "Lava Flow Zone One. So Lee knew he had Leonard stuck between a rock and a hard place.
So Lee knew Leonard was no longer protected against a foreclosure suit after Lee altered the Agreement and had the insurance cancelled. He then submitted his altered agreement to the court claiming Leonard had altered the altered one! Yes. You got that right. Lee claimed that the certified true original Agreement for Closing Escrow was the forgery! And because Carroll and Hara plotted to conceal The Hara file, and not summons Hara to testify, they all set Leonard up to have the jury rule in Lee's favor on that claim of fraud. Island Title Co. officials simply said they could not recall what happened to cause the certified true original Agreement to become the fake! This appears to be how the real estate and drug mob works on the Big Island of Hawaii to steal people's properties, and fix trials.
Leonard went through a jury trial that appears to have been rigged also by the most outspoken juryman later being found to have attempted to buy the property immediately after they returned a verdict only marginally in Leonard's favor. (See attached Letter to Hara) The juryman was "Uncle Lewis Strada"–the uncle of Gia Rose-Strada, who worked for Leonard as a caretaker, but had no idea her uncle was in on a sting to damage Leonard. (Yes. this was totally bizarre.)
Mr. Strada had an interest in buying the property and attempted to purchase it through a local real estate agent, Dianna Shomer, immediately after the jury was dismissed. The jury claimed that Leonard's version of the Agreement–the certified true original one held by Island Title Co., did not damage Lee, so there was no money awarded for Leonard's alleged alteration of that document. The  jury went one to award Leonard $200k due to Lee's fraud in the sale of the property.
Nevertheless, Leonard was devastated the jury could claim he forged a document when the original was with the title office, Lee's fake had a missing witnesses' signatures on it, and the Court knew that Lee had been a convicted felon, and even had Judge Nakamura in the same Third Circuit Court under Judge Ibarra rule that Lee had altered MANY documents in his case against Maise.
Thankfully, Judge Ibarra denied foreclosure and Leonard prevailed in Civ. No. 05-1-0196. Then Ibarra ordered Leonard to pay the final balloon payment which Leonard did on February 27, 2009. Leonard applied the $200k jury award as directed by Attorney Carroll, and then paid an additional $154k by checks and wire transfers. So the final payment was paid, and Leonard thought it was all over, and he could go on with his life. But the nightmare had only just begun.
Several months later, Ibarra allowed Sulla, while Lee was on his death bed, to file a rediculously "untimely" "motion for a judgment as a matter of law" to revoke Leonard's jury award. This Motion was supposed to be filed before the jury went into deliberation. But instead, Ibarra permitted it to, apparently, cause Lee's and Sulla's victim to be further damaged. Leonard has been trying to appeal that jury award ever since 2009, but Ibarra kept issuing non-appealable judgments according to Jenkins requirements; so the appellate court kept sending the case back to Ibarra for new "final judgments".
Lee never left a Will and Sulla never appealed the foreclosure denied ruling, but instead Sulla found a transient shill, Jason Hester, that Sulla could use as a sham heir to claim Leonard still owed the jury award amount. Normally, if there is a "deficiency" in mortgage payments, the person owed the money can simply motion the court for a "deficiency judgment." But Sulla's scheme needed to conceal that fact that he, and Lee, had evaded notices that the final balloon payment had been made, and to release the mortgage as required by Hawaii law HRS § 506-8. Sulla also needed to conceal his bigger scheme of fraudulently transferring the paid-off mortgage and note into a sham "church" that would soon take the place of the dying Lee.
UPDATE: We just found out  that Attorney PAUL J SULLA, jr covertly transferred our property to himself this past September. He is still lying to the courts and claiming he is just the attorney for his judgment proof, drifter, Jason Hester.

http://qpublic9.qpublic.net/hi_hawaii_display.php?county=hi_hawaii&KEY=130010490000https://www.bizapedia.com/hi/halai-heights-llc.html
http://qpublic9.qpublic.net/hi_hawaii_display.php?county=hi_hawaii&KEY=130010490000https://www.bizapedia.com/hi/halai-heights-llc.html
halai-heights_entity-sulla-used-to-transfer-property-to-himself
warranty-deed-hester-to-sulla-9-9-2016
halai-heights-dcca-registration_sulla_2-1-16
We reported  Sulla to the Office of Disciplinary Counsel: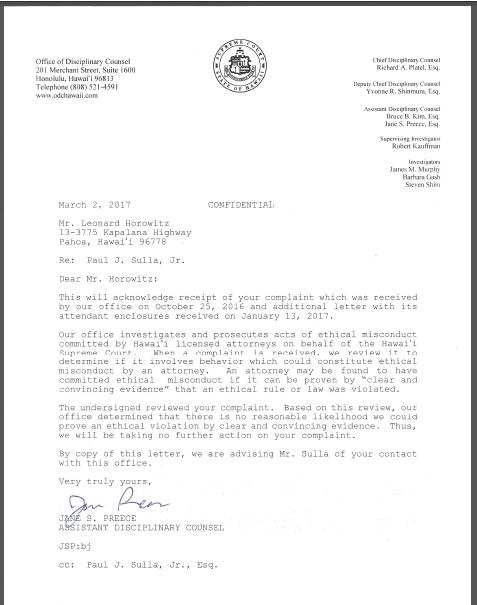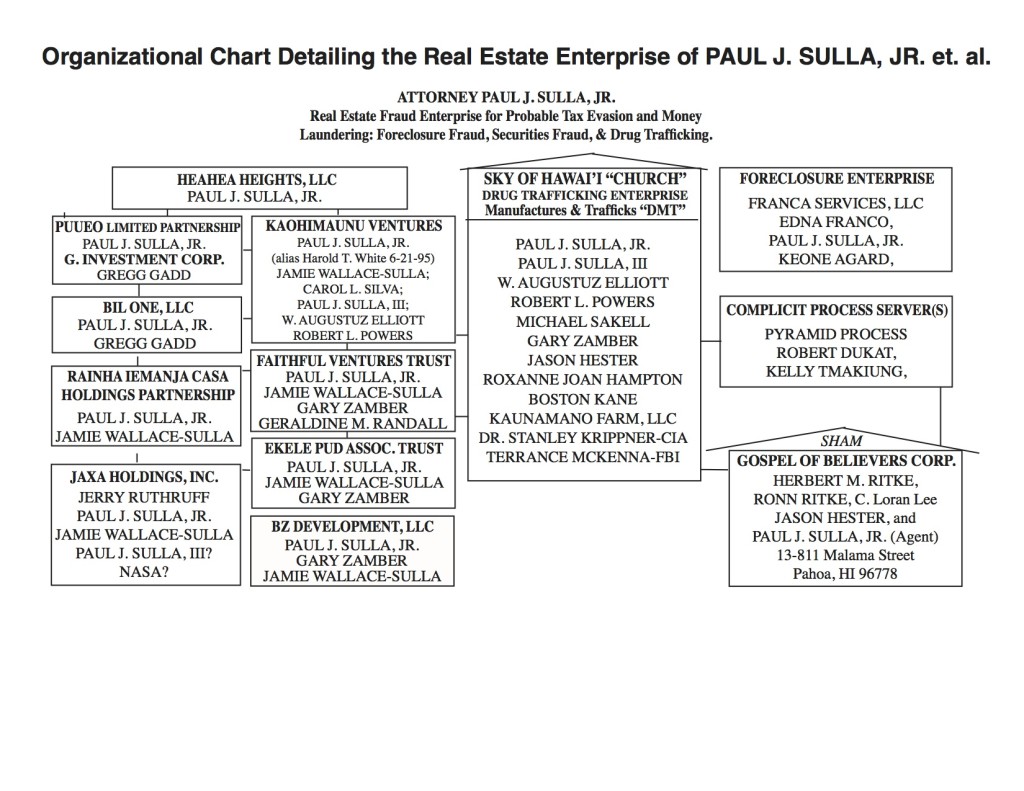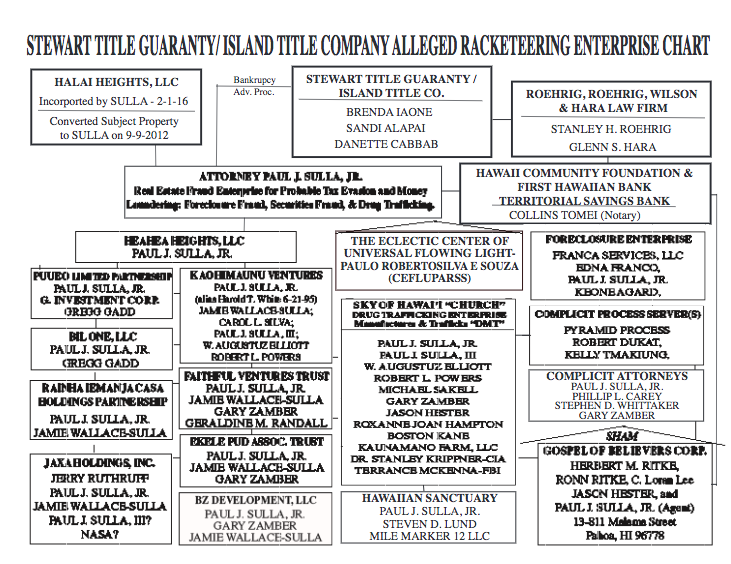 After Sulla created the fake church in which to transfer our notes and mortgage into, "THE OFFICE OF OVERSEER, A CORPORATE SOLE AND ITS SUCCESSOR, OVER AND FOR THE POPULAR ASSEMBLY OF REVITALIZE, A GOSPEL OF BELIEVERS." (You would not believe this is the real name, but it is. Let's just call it "GOB"), Sulla claimed that Leonard owed GOB $200.000 on the void mortgage, and would be foreclosed upon non-judicially if Leonard did not pay. (That's called "extortion.") And when Leonard refused to bend, Sulla committed the illegal NJF foreclosure auction on the court steps in violation of HRS §§ 667-5; 651-C; 480-2; 480D; and 485. This was how Sulla sold our house to Hester, the alleged "Overseer" of the fake GWe hired attorney Attorney Gary Dubin to stop Sulla's auction, but Dubin took our money and did nothing to block Sulla's NJF. We did film and produce a news segment on Sulla's illegal auction, and you can view this here: https://vimeo.com/104882261
We went back to Dubin about how he neglected his duty, and he simply claimed that "possession was 9/10ths of the law" and said not to worry. Read more about Attorney Gary Dubin HERE.

Then Sulla used Hester to attempt to evict us in the lower district court and we went back to Dubin again and complained that this now happened as a consequence of Dubin's inaction or negligence. Dubin told us to pay a total of $26K, or we would most certainly lose that case. Dubin then had one of his subordinates, Benjamin Brower, take our case. Brower and Dubin started making back room deals with Sulla. (We have e-mails to confirm this.) Brower and Dubin claimed that Sulla wanted an extension since he was "new" to the case, which everyone but the judge knew was a lie. We never agreed to that "continuance," and it should have stopped there. But it didn't. So we complained to Gary Dubin again, and Dubin allegedly fired Brower. Dubin then sent us a part time judge, Peter Stone, who put in a great filing and the case was instantly dismissed. (See attached quote about Sulla from Peter Stone. The full filing by Stone available upon request.)
Sulla also attempted to serve us ejectment warrants by posting them on our gate. There were 5 day notices to vacate. He used another attorney's stationary, and forged a process server's signature on the documents. We hired handwriting expert Beth Chrisman who confirmed that this was Sulla's dirty work.
Leonard and I are journalists so we had been documenting everything that was happening, and Sulla was very unhappy about that.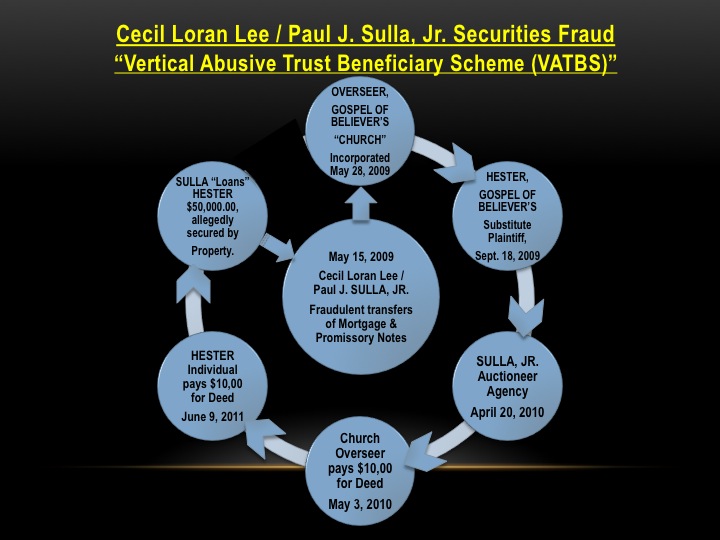 Around that time, in 2012 I think, we learned about Sulla's drug church, and that he had acquired over 50 properties, and used them to launder his drug money. According to a Federal Tax Investigator who contacted us for information about Sulla after Sulla was named in a Superseding Indictiment of Hawaii arms dealer, Art Ong, and the U.S. Treasury Dept. was investigating, Derick Tabania appeared on our radar screen. Tabania explained that Sulla appears to be involved in a pattern of creating and administering what Tabania called  a "Vertical Abusive Trust Beneficiary Scheme." That's how Sulla always remains an arms length away from any corporation or trust that he creates, the tax investigator explained.
Sulla also promotes on his website blog that he assists people who are victims of mortgage or foreclosure fraud, while he himself is engaged in committing it. This shows his psychopathic "condition of mind."
At one point, Sulla started getting heat from people, so he decided to sue us for defamation. That case went before another one of Judge Ibarra's subordinate judges' in the Third Circuit–Judge Elizabeth Strance. (She is no longer on the bench, because the Judicial Selection Committee had apparently received so many complaints about her, they decided to now renew her contract.) Leonard and I filed a counter complaint against Sulla containing more than a dozen counter-claims. Nonetheless, Judge Strance violated our rights and made us take down PaulSullaFraud.com for almost 3 years.
Judge Strance ordered us to mediation with Sulla, which was a farce.  We decided on a retired judge as the mediator. Judge Amano started requesting that Hester come forward for questioning, but of course Sulla blocked that from happening, and made up lame excuses for why Hester would not be available.
Sulla never intended for us to make it to trial, and has always avoided any trial with us. So 6 weeks before the trial in the defamation case, in a hearing that Sulla did not attend, Judge Strance removed her judicial robe, came off the bench, and sat down with us, telling us she wanted to dismiss the case.
We then told her we were all prepared to go to trial. Leonard had even prepared a powerpoint presentation to show the jury. Then we asked about our counterclaims and Judge Strance then delivered a SHOCKER! Judge Strance claimed she "lost" all of our Counterclaims. Lost them? We had submitted them three times, and we have records of each filing. How could Judge Elizabeth A. Strance's Court have lost our counterclaims? Stance had no explanation, but was apologetic. She said she would look for them, and get back to us. A few days later she informed us that we had no counterclaims, and that since we had nothing to gain by going to trial, we should just drop the case. That is how we prevailed in Civ. No. 12-1-0417.
What is interesting is that Judge Strance, when she sat with us, she told us that she believed us. She believed everything we claimed about Sulla, including him stealing our property. Judge Strance had witnessed Sulla testifying and covering-up his drug church operations. Sulla actually pled the 5th Amendment right not to answer. (That is called a "negative averment" or "adverse inference;" which should have been taken very seriously by any judge.)
In retrospect, we believe that the Third Circuit Court officials knew we were going to slam dunk Sulla at trail, and they pressed Judge Strance to dismiss the case so as not to air Sulla's dirty laundry.
A few months earlier,  Sulla had summoned us for a settlement meeting, and when we showed up, it was a set up. Sulla had a process server serve us with another eviction complaint in the same lower district court that we had already defeated the same complaint with the help of Peter Stone. That State district court had no jurisdiction over title matters. Hester was also present, but was told by Sulla not to speak. Sulla then extorted Leonard again, and said he could make this all disappear if we paid them $375K.  (That extortion was being recorded, we later learned, by one of our friends.) We of course told him and Hester that they were not entitled to any money; that we had already paid for our property, and even if there was any money due, neither he nor Hester was entitled to it. (Recording available on request.)
After Leonard filed counterclaims for malicious prosecution, malpractice and contempt of court, Sulla then attempted to dismiss the lower court's case he had filed to get us evicted. Judge Freitas ordered that Sulla file in the proper court or he would be made to go to trial on Leonard's counterclaims.
That is when Sulla filed Civ. No. 14-1-0304, "Hester's" quiet title case.
Sulla again claimed that we had not paid the $200k left on the note since our jury award was unlawfully vacated because of him. We had been trying to get an appealable judgment on that $200k but were blocked by Ibarra from getting that, and even if the Appeals court were to say that the $200k jury award was vacated correctly, then the next question would be: "Who would be entitled to get that $200k?" Hester has no standing to stand in the shoes of Lee, and if he did, Sulla has never provided any proof that Hester is the legal heir.
In fact Sulla came forward at one point and even said that Seller Lee had no more interest in the property since losing the foreclosure case against Leonard. (see attached). Sulla stated that to Judge Strance in the Probate case, in order to get Strance to dismiss the probate action while fraudulently concealing Sulla's self-appointed personal representative status now managing Lee's estate without any court authorization that is required. Sulla was also concealing his fraudulent transfers of the mortgage and notes into GOB formed by Sulla's forgery of Lee's signatures on pages 6 and 8 of the Incorporation papers filed with the DCCA.
So Sulla filed for quiet title in this current case that is the latest case wherein Ibarra and his subordinates are railroading us (0304) concealing Sulla's torts and crimes. Instead of getting any kind of justice, we got hammered, censored, and deprived of our due process rights. Again Sulla or Hester never got questioned, even though the burden of proof was on them to prove the strength of their title. We attempted to remove the case to U.S. Federal court, and Judge Seabright remanded it after assistant Judge Richard L. Puglisi disqualified Sulla as a necessary witness at trial. WHAT TRIAL? We never had a trail. We were completely shut down so the Court could deliver our property to Sulla.
After Sulla was disqualified, it was Stephen Whittaker that Sulla hired to represent Hester. Not once did anyone question how a homeless drifter can afford two high priced lawyers. It was obvious and now confirmed by our attorney that Sulla is the one paying Whittaker.
Whittaker appeared to have a close relationship with Judge Strance. They are both part of the same community. Strance was leaving the bench and she did her friend a favor. The first thing they did was challenge our standing, to divert from challenging Plaintiff Hester's standing, which is a violation, since the burden of proof was on Hester not us. They claimed since Leonard's Corporation sole, was on the original mortgage, we had no standing, and no standing to defend the Corporation either, without a lawyer. Even though, Leonard and I were named as individuals in the lawsuit, and even though Leonard's signature was on the original promissory note, and even though Leonard brought in a lawyer to vacate the default on our ministry, and even though 2 years prior to this current case, we had transferred all interests from the Corporation Sole into our personal names, and then dissolved the corporation sole, because Sulla kept maliciously suing it.  The corporation sole no longer had any interest in the property, we did! All mortgage payments were paid timely (we have the check receipts) and were signed by Leonard. It was his money. Also HRS 419-8 and Washington statutes 24.12.010 and 24.12.020 gave Leonard standing to defend his property, in the "winding up" period of the corporate sole.
By taking our standing away, it was like our case no longer had any legs.
The 0304 judgment is void, because: (1) ever once did Hester ever put in one affidavit or even have to come to court to testify. That means there were no facts before the court to rule in favor of Hester. In other words, the court lacked "subject matter jurisdiction;" and (2) Hester's name was not on the note. That means he had no standing and the court had no "personal jurisdiction." All that means is that the final judgment granting Hester quiet title to our property is VOID.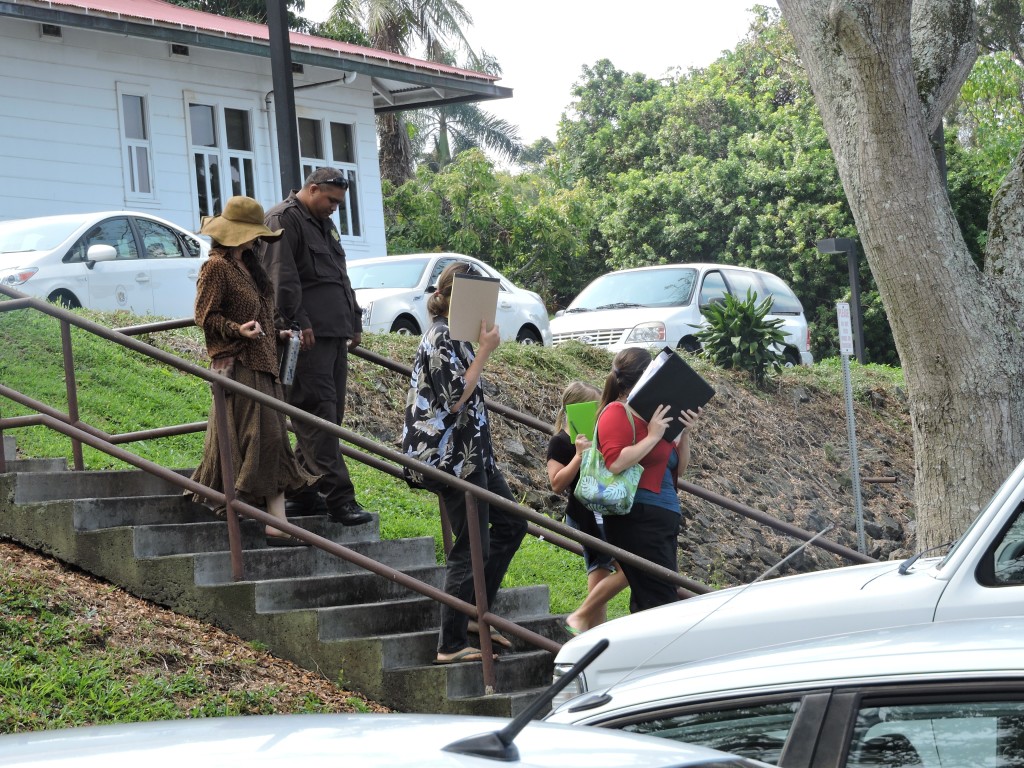 Whittaker filed for Summary Judgment, and Ibarra took over the case from Strance. For the Summary Judgment, Whittaker brought in a fake Hester (see attached photographs of the imposter!) The imposter came with a fake family to gain Ibarra's sympathy. I told the judge that Hester was not in the courtroom, but he ignored it.
We attempted to get Ibarra disqualified for bias around this time, but he denied our request. We knew that he was violating our rights to due process, and of res judicata, but Ibarra kept saying that he was doing this because of the NJF foreclosure, and we kept telling him that the NJF was void because it violated 667-5, and because Sulla had no right to foreclose, and his church had no right, since he had not formed it yet when he transferred our notes and mortgage via forgeries into GOB, and Sulla has no right to use Hester as an heir when he was not. Especially since Lee had a son and also a sister he chose to live with in Arizona when he died, that he would have left a Will for, if he had any entitlement or interest in the subject property left. We kept asking Ibarra how come Sulla and Hester were never questioned about their standing or about the forgeries, or about violating 667-5, or 651-C and the judge never addressed it with us or bothered to question Hester or Sulla. The fact alone that Ibarra allowed Hester to substitute for Lee was an outrage, without Hester ever being made to prove anything. Sulla either had Ibarra, Strance, and Fujino completely conned; or they knew what they were doing to purposely aid-and-abet Sulla's theft.
Judge Ibarra never blinked an eye when our Attorney Margaret Wille put in filings and pleaded that this was an illegal cheme, involving forgeries, and that Hester was a shill. Here is a video of that hearing:
http://revolutiontelevision.net/video/motion-to-disqualify-judge-ronald-ibarra/
Also attached is Sulla's money laundering enterprise chart. He created trusts and LLCs to hide the income for tax evasion involving more than 50 properties, while concealing his own interests.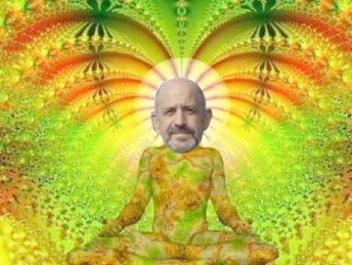 Sulla recorded the name of his drug church at the DCCA: THE ECLECTIC CENTER OF UNIVERSAL FLOWING LIGHT-PAULO ROBERTOSILVA E SOUZA (CEFLUPARSS).
The name "ROBERTOSILVA," is actually two names combined to conceal Sulla's Ayahusca (DMT) drug enterprise. If you separate the names "Roberto" and "Silva" and put the name like that in the search, you see the connnection to ayahuasca and DMT commerce. Sulla also writes the church name like this because his local DMT manufacturing business is illegal.
Here is an incident that happened in Sulla's drug church where a man had a life threatening accident after being given Ayahuasca by Sulla's "church" officials.
Finally, Judge Ibarra replaced himself in our case, with a new Circuit Court Judge named Melvin Fujino who has now signed off on a Writ of Ejectment on a property Leonard paid for with his life savings. The Writ of Ejectment was stamped on the 1st of March but sneakily delivered on our gate on the night of March 12th, and not entered on the Ho'ohiki court record until March 11th, and never sent to our attorney Margaret Wille or to us. This delay in allowing us to receive it, also prejudiced us in filing an opposition. Currently, the ejectment is at the Hilo Sheriff's department, and Attorney Wille was told by a deputy that Sulla is the one that is pushing for it to be served. Attorney Wille told the sheriff that Sulla has been disqualified from representing Hester so Sulla has no right to be in correspondence with the sheriff's office in this matter.
Attorney Margaret Wille is an esteemed County Councilwoman on the Big Island, and is responsible for helping pass the ethics bills. She sees something seriously wrong with what is going on in the Third Circuit Court. In the photo above, she is questioning Mayor Billy Kenoi, who was later indicted on multiple counts of thievery and perjury.
Leonard has filed for Chapter 13 Bankruptcy because the property is necessary for reorganization, since all of our current debt comes from our legal fees regarding the subject property. If we are able to regain our title back and open up the inn to business, then we will be able to pay back our attorneys fees.
Currently our online store is barely surviving because since filing for Bankruptcy, the credit card companies took away all the credit cards that were used to reprint books and get supplies for the store, so all the money coming into the store goes to paying our legal fees on the subject property. Therefore, we cannot reprint the books.
If we are evicted, it is not a bank we will be forced to hand over the property to, until we are able to get it back. It is a group of white collar criminals including drug dealers, who will not be able to care for it and are likely to vandalize it.
Also there are many fixtures such as our valuable fish ponds and our structures that we cannot take with us. None of these things were ever considered for their value, nor determined by any court based on the merits.
We pray that there is a fair judge in the justice system that can help us stop this malicious prosecution and property theft, and prevent these devil-doers from harming anyone else.
Paul J. Sulla Jr's Illegal Ayahuasca Drug Church Operation:
BREG Online Services – Sulla's Church
BREG Online Services – Sulla'sChurchOfficer
Incident at Sulla's Drug Church
This is the website for Sulla's drug church:
http://www.skyofhawaii.com/
See further evidence in graphics at the bottom of the page
Some Other Victims of Paul J. Sulla, Jr's drug church and other crimes.:
Affidavits of Anonymous Parties
AFFIDAVIT OF Fred and Marj Dente_Victims of Sulla
The Many Hats worn by Paul J. Sulla, Jr.:
Proof that Sulla admitted that Lee had no more interest in the property because he Lee had lost in a foreclosure to Leonard:
Sulla's illegal 50K Mortgage to Hester on our property:
Letter and Tax Records proving that the church Sulla created to non-judicially foreclose in order to steal our property was a fraud:
Tax Office Records of Fraud Ritke, Hester
Affidavit of PI proving that Jason Hester is not blood related to Cecil Loran Lee
Affidavit of Christopher Baker BSIS
Affidavit of Handwriting Expert Beth Chrisman proving Sulla forged the Mortgage and notes by copy and paste in order to transfer them from Leonard and his Corporation Sole The Royal Bloodline of David to a church that did not yet exist.
BETH CHRISMAN AFFIDAVIT OF FORGERY 6-12-15
Declaration of Handwriting Expert Beth Chrisman proving Sulla forged the signature or Process Server, Robert Ducat as RDUM.
Beth Chrisman DECLARATION_RDUM
Out of 6000 pages on the 0196 Appeals record, 6 of the pages in different section were whited out, and all of the whiting out happens to be the handwriting of Judge Glenn Hara when he was Attorney Glenn Hara. It is believed that the tampering of evidence was by Judge Ronald Ibarra to cover up Judge Glenn Hara's malpractice and involvement in what took place in the case.
Attorney Whittaker Lies to the court
5th Amended Final Judgment stamped March 4th, 2016 that states that judicial foreclosure was denied, and Leonard prevailed after jury trial, and that the final balloon payment of the mortgage had been paid. (See page 5 Footnote 1)
FifthAmendedFinalJudgment_0196
Conflicting Final Judgment that gives away subject property Dec 30, 2015, to Jason Hester with no questions asked of Hester and no trial ever involving him or Sulla.
Attorney Margaret Wille's Letter to Judge Ibarra regarding his delay of signing the 5th Amended final judgment in 0196, while he allowed the 0304 to fly by.
Attorney Margaret Wille's Letter to Judge Ronald Ibarra 3-3-16
Hoohiki Record proving that on 3/17/16, Attorney Wille's request for the process of the 5th Amended final judgment, had still not been signed, 2 months later.
Hawai`i State Judiciary: Ho`ohiki_03_17_2016
Writ of Ejectment stamped by clerk of Judge Melvin Fujino on March 1st, and posted to our gate on March 12th, to prejudice us in responding to it timely.
Paul J. Sulla Jr's handwriting is on the document over words that are crossed out and not initialed.
Sulla was disqualified from representing Hester in this case, but still continues to attempt to steal our home and land.
Writ Of Ejectment (1) court stamped 3-1-16 and posted on gate on 3-12-16
Note: The Writ of Ejectment above states by the clerk that it is a true copy of the original, and even though it was stamped by the court, it is not filed with the court.
The Writ below is what is actually filed with the court and instead of a stamp, it has Judge Melvin Fujino' signature on it. We never received a copy of this version of the Writ below until our attorney Margaret Wille went to the court and acquired it, after the suspicious way the Writ 1 was was delivered on our gate.

Note: Writ 2 below was not the Writ posted to our gate, even though the Writ posted on our gate says "True and Original copy."
We believe that Writ 2 below was created by Judge Fujino to cover up the fact that disqualified and concealed real party of interest, Paul J. Sulla Jr's  handwriting was on the Writ posted on our gate. This is more evidence that Judge Melvin Fujino is complicit with Paul J. Sulla, Jr. Notice the different handwritten where the words are crossed out on both documents. How can the court claim that one is copy of the other?
This is the comparison chart timeline of the Writ of Ejectment.
Writ of Ejectment Comparison Table w- Writs 1 & 2
Attorney Margaret Wille's letter to the Judge Fujino inquiring on the violation of our rights regarding the Writ of Ejectment.
Attorney Margaret Wille's Letter to Judge Fujino 3-14-16
Attorney Wille's Motion to Stay the Writ of Ejectment, where again she states that our 14th Amendment rights are being violated.
Defendants Emergency Motion for Stay of Writ of Ejectment 3-14-16
Retired Police Office Jim Benish's letter to the U.S Attorney in Hawaii regarding our case:
Jim Benish letter to Justice Department
Adversarial Complaint within Chapter 13 Bankruptcy:
Adversary Proceeding Complaint March 9 2016
Our Motion in Adversarial Complaint that proves Sulla violated the Bankruptcy Automatic Stay:
Motion for TRO Stay Extension and Exhibits 3-18-2016
Sulla's Motion to Lift the Automatic Stay in bankruptcy Court which is filled with lies and omissions:
Motion for Relief of Stay Sulla 3-21-16
Leonard's response to Hester/Sulla Motion to Lift the Stay
Reply to Motion to Lift Stay 3-28-16
Sulla's response to Leonard's response to Lift the Stay which includes lies and Omissions again including the claim that there is a tax auction scheduled for June 3o, 2016 and Sulla also falsely claims that there are not 2 conflicting final judgments.
Hester'sResponsetoResponsetoStay 4-2-16
Sulla violates Automatic Bankruptcy Stay by requesting Attorneys Fees and Costs in another Appeals case:
Request and Declaration of Counsel for Attorneys' Fees and Costs 3-11-16
Leonard's response to Sulla's request for Attorney Fees and Costs:
Appellant Opposition to Request for Fees and Costs with Exhibits 1 to 11 Filed 3-15-16
Response to Hawaii state tax office in are victimizing Dr. Horowitz in his bankruptcy case, neglecting the fact that he was forced in bankruptcy because of Sulla's malicious prosecutions, keeping him tied up in courts for years, with legal bills piling up. The Tax office is claiming he did not file personal income tax, therefore diverting from Paul J. Sulla's tax evasion. Dr. Horowitz retired from dentistry in 1998, and has not worked in the State of Hawaii. The only income he would had in Hawaii was from the B&B property that he purchased, that he could never operate because it has been stolen from him.
Appendix I of Response to Tax Office
Exhibits for Response to tax office
Photos of the Paul J. Sulla, Jr. (center) Jason Hester (right) and Hester imposter (Left and also bottom photo right.) The imposter and along with Sulla's secretary, Lokie White and a fake family for the Hester impersonator (bottom right seen covering their faces) were brought to court by Sulla's attorney, Stephen Whittaker (bottom photo left).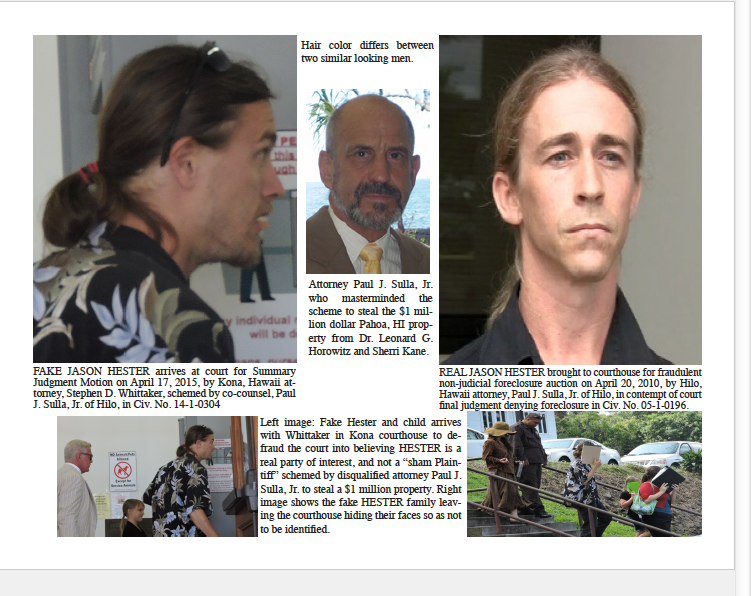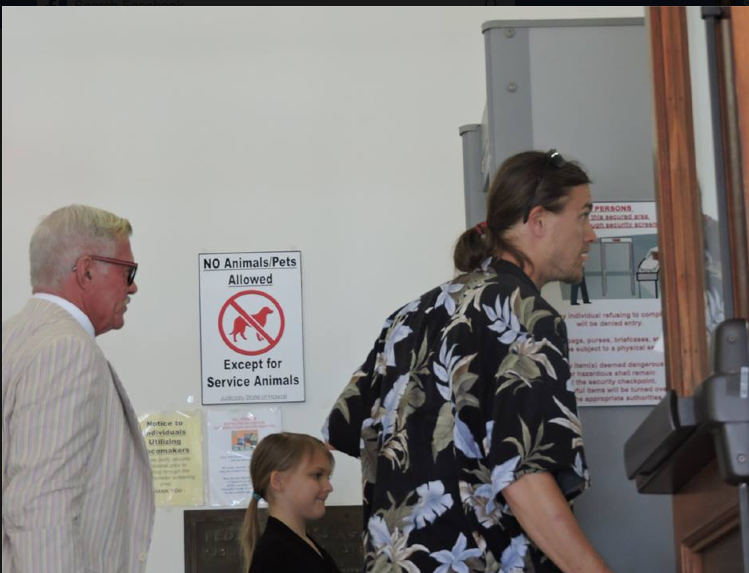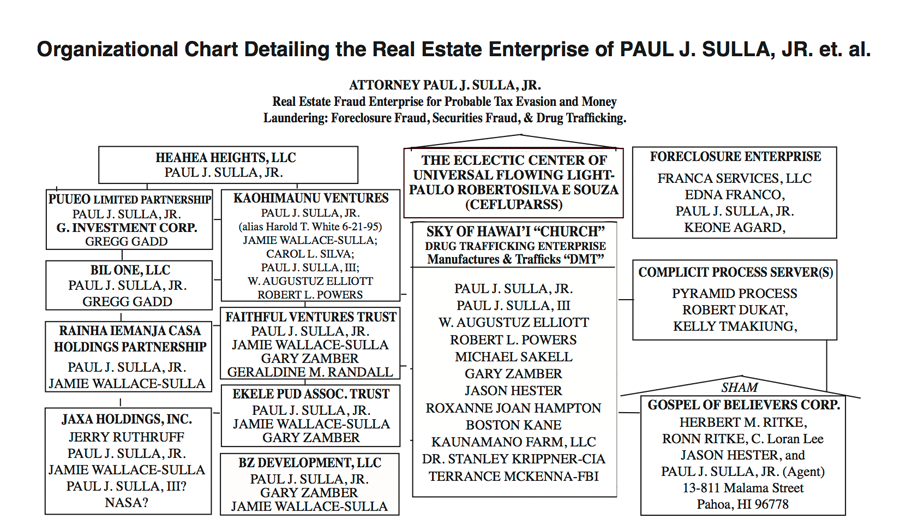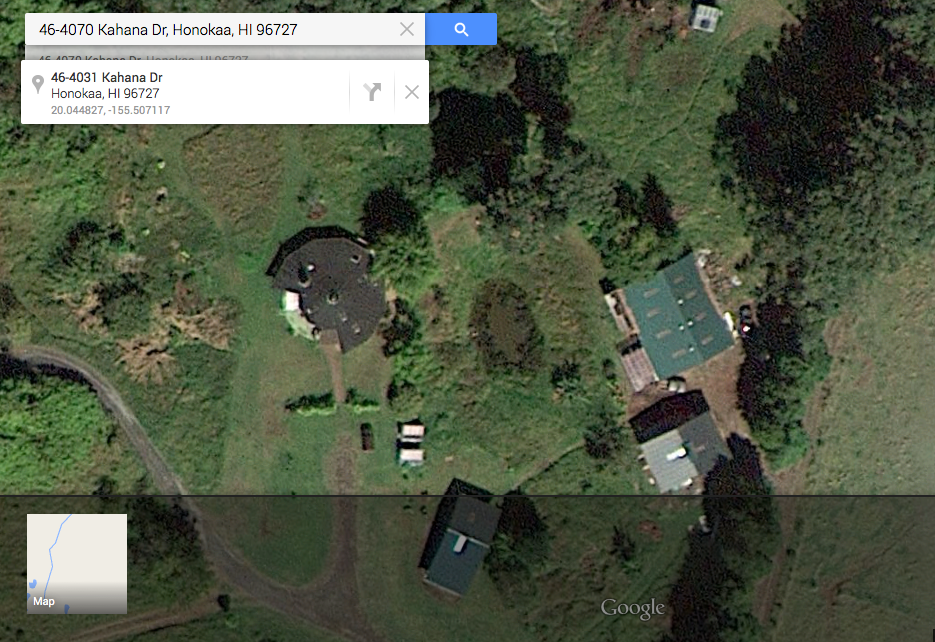 The links below provide Dr. Horowitz's key final filings in bankruptcy caused mostly by Sulla's torts, crimes, and maliciously prosecutions that the doctor has been forced to defend against repeatedly since 2009. Reading these pleadings gives you a shocking awakening to the judicial corruption that Sulla has generated in state and federal courts to divert Horowitz from his world leading pharmaceutical industry whistleblowing and consumer protection advocacy.
Horowitz's Motion-and-Memorandum-for-Reconsideration, Removal, or Leave to Appeal the Court's Outrageous Pro-Sulla Bias and Rulings filed 9-26-16-w-exhibits (10 MB)
Dr. Horowitz's Reply-to-the Bankruptcy Court's "Standing Trustee's" Objection-to-the Doctor's Reorganization Plan to Save His Estate from Sulla's Theft Scheme. Contains Shocking Revelations About the Trustee's Corrupt Practices. filed 9-12-16-w-Exhibits-1-6 (5.4MB)
Horowitz's Reply-to-Sulla's Objections to Horowitz's Reorganization Plan filed 8-26-16
Dr. Horowitz's Motion-to-Remove the Adversary Proceeding to the U.S. District Court with Exhibits filed 8-2-16 (14.5MB) ;
Dr. Horowitz's Motion to Compel Sulla to Show Cause for His Illegal Activities, filed 6-27-16 ; index-to-exhibits-for-6-27-15; exhibits-for-sulla-objection-06-27-16
Related Articles and Videos
Hawaii Ballistic Missile Threat: Was 38 Minutes of Terror a Simple "Mistake" or PSYOPS?
Deep State Drops Nuclear PSYOPS on Hawaii Irradiating the Planet
The Las Vegas Deep State Massacre -eBook press release
Bioterrorism Prophecy Vets Bill Gates Propaganda as Doomsday Clock Nears Midnight
I-Preditors Exposed in Troll Triad
Hawaii Challenge to Trump Travel Ban Vets Pattern of Judicial Corruption and Mob Rule Over "Paradise"
Hawaii Senator Roz Baker Caught in Bribery Scandal with Pfizer/Monsanto Lobbyists
Journalists Expose Political Cover-up of Judicial Corruption in Hawaii
Dope Paradise Godfathers Secretly Block Justice From Hawaii To Control The Global Colony
Hawaiian Last King Kalakaua Killed by Drugs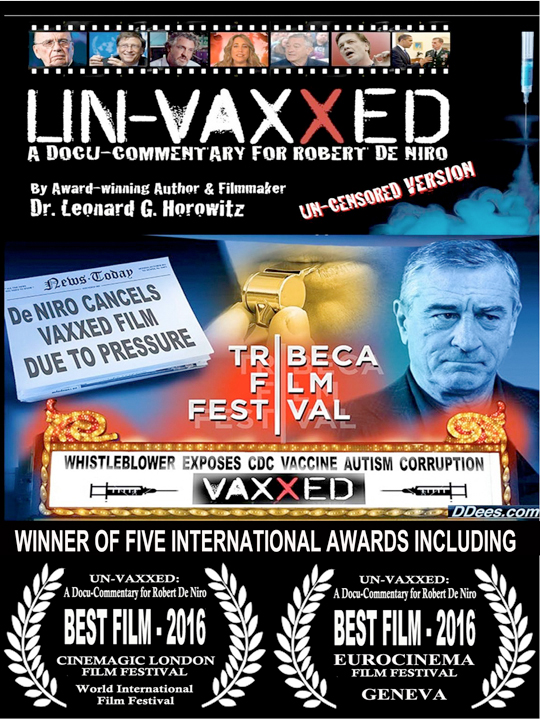 <!-comments-button-->