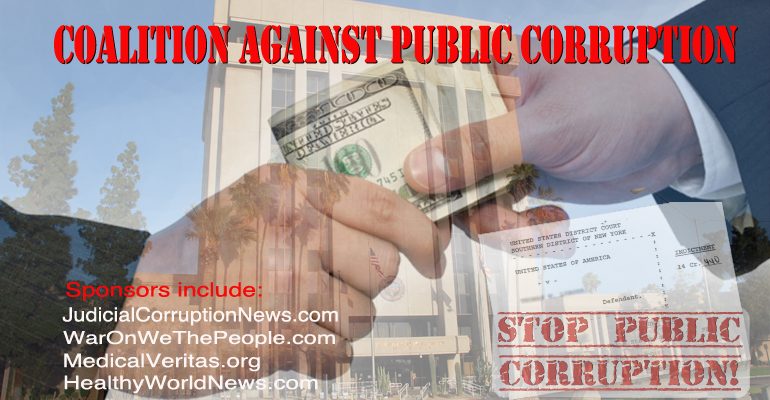 TRUMP ADMINISTRATION JUSTICE DEPARTMENT URGED TO END PUBLIC CORRUPTION DESTROYING AMERICA: DIRTY JUDGES AND LAWYERS MUST FACE PROSECUTION LIKE ANY OTHER CRIMINAL.
Fellow Citizens of the U.S. and World:
"PUBLIC CORRUPTION" damages Americans more than any other problem and many American-based multi-national corporations are damaging people worldwide by tainted legislative, Justice Department, and court permits.
Corrupt lawyers, judges, and politicians taking bribes damages everyone. Our families are made sick. Our businesses are repressed. Our communities are at odds. Our nation is in turmoil. And the world's economy is in jeopardy from the Public Corruption damaging America. Freedom and democracy once heralded as "all American" is now recognized internationally as a "bad joke."
If you care about America, your health and safety, your children's future, and world health and safety of people internationally, then sign this PETITION AGAINST PUBLIC CORRUPTION to send this message to President Trump's top officials.
The Courts Are "Where the Rubber Meets the Road"
Where "the rubber meets the road" for positive CHANGE is in the courts. Corrupt judges and lawyers bribed by special interests don't give a damn about you, our health, safety, environments and quality of life. By joining our COALITION AGAINST PUBLIC CORRUPTION and signing the PETITION AGAINST PUBLIC CORRUPTION you will be casting your vote for helpful CHANGE.

You support for greater transparency and public oversight of the Justice Department is urgently needed, NOW!  The American "justice system" is "totally out of control" as President Trump has made known. Many other politicians on both sides of the political fence have complained about the corrupt Justice Department that operates as a "separate branch of government" and often "above the law." CHANGE can happen by forcing the Judicial Branch of Government into the sunlight of public scrutiny followed by grassroots coalition regulation administered by independent oversight committees representing the feelings and needs of We The People.

The PETITION AGAINST PUBLIC CORRUPTION should be signed and spread immediately by every justice-loving person. This straightforward practical remedy opposes the multi-national corporations that are bribing most American politicians (i.e, law-makers) while replacing We The People with robots, "artificial intelligence 'AI'," and imposing dangerous and deadly technologies on everyone. These new government-licensed, court-approved, corporate-imposed risks include frequency-based wireless services and genetically engineered (GMOs) foods, drugs, and vaccines.

By signing this PETITION AGAINST PUBLIC CORRUPTION, you will be sending a strong message to President Trump and his administration's chief criminal division law enforcer, Brian A. Benczkowski, encouraging POSITIVE CHANGE and POWER RETURNED TO THE PEOPLE for GREATER JUDICIAL REVIEW, LAW ENFORCEMENT, CIVIL RIGHTS, HUMAN FREEDOMS and JUSTICE FOR ALL!

<!-comments-button-->