FBI and Hawaii News Now Terrorize Citizens as State Officials Appeal for Ho'oponopono in the Wake of Genocide, Obstructing Justice, Evidence Tampering, Witness Retaliation, Hindering Investigations, Exploiting a Mass Shooting "Threat" at the Capital When No One Was There, and Concealing Family Records Needed to Determine Conflicting Interests
by
Dr. Leonard G. Horowitz and Sherri Kane
9-16-19
Honolulu, HI (JudicialCorruptionNews.com)–The FBI, according to Hawaii News Now (HNN), has threatened to investigate a "Facebook comment" that "appears to be" calling for "a mass shooting at the Hawaii State Capitol" on a day when no one was there.
The 'gag' or 'bait' was not only swallowed by officials, but exploited by them using HNN. 
These official actions would be laughable were it not for the seriousness of the transparent crimes, including genocide.
How the Terroristic Threatening Began
On September 7, these authors published an exclusive breaking news article giving law-enforcers probable cause to investigate the governor for bribery and more–substantial evidence neglected by the corporate-controlled media.
The JudicialCorruptionNews.com article spread rapidly and widely through the social media, and within 24 hours Gov. David Ige officially responded.
In the governor's response, he neglecting and diverted from his key agent in the controversy–Melanie Long. Gov. Ige called the allegations of conflicting interests "without merit."
On 9/11 Hawaii News Now (HNN) published a threatening piece by television news anchor, Mahealani Richardson, quoting Ms. Long's lawyer, Michael Green, calling the citizen-investigators allegedly spreading "rumors" as "vile" and "vicious." Green threatened defamation lawsuits.

Two days later, on Friday-the-13th, the governor called a press conference to advance civility and ho'oponopono for both sides of the Thirty Meter Telescope (TMT) controversy.
The next day, Saturday the 14th,  Hawaii News Now's joined the FBI in diverting from the evidence of serious crimes revealed by the citizens doing the work that the FBI and the Attorney General Clare Connors should be doing, but were neglecting.
Technically a 'red herring' diversion, Hawaii News Now leveraged FBI-media spin drawing attention away from the substantial evidence of crime the citizens reported. Evidenced wrongdoing included state and federal law enforcers' non-feasance, malfeasance, and complicity in public corruption aiding-and-abetting TMT officials' land thievary, concealing evidence, obstructing justice, hindering investigations, threatening citizens, and delaying possible prosecutions by neglecting the governor's appearance of having been bribed to advance the TMT.
Evidence for the appearance of crimes and conflicting interests came when a TMT tax return and three local business registrations were published by the Facebook group ʻOnipaʻa Kākou.
The public records showed that TMT paid $3 million in 2015 to the Longs' security company, the Private Security Group, for un-defined "professional services" to support the not-yet-built TMT.
The obvious impression of graft and suspected money laundering was directed by dual agents in that security company, implicating its 'sister company'–a real estate management company, Pacific International Realty, Inc.
Charles and Melanie Long are the exclusive officers and agents for the suspected businesses. And they maintain close ties to the governor. Long acts as the exclusive agent for the governor's own real estate "enterprise," legally formed by Ms. Long in 2015.
Thereafter, Ms. Long and the Iges neglected to submit required legal filings for the David and Dawn Ige Enterprises partnership claimed to exist only to receive money from Ms. Long's real estate agents managing rentals of the Iges' home.
Melanie Long, who the FBI is aware carries a federal conviction for methamphetamine trafficking, did not explain why she and the governor caused David and Dawn Ige Enterprises to go into bad standing with the state after the 2015 single year of its legal function. This was especially suspicious since Ms. Long inferred in her response that the Iges' rentals had been continuing.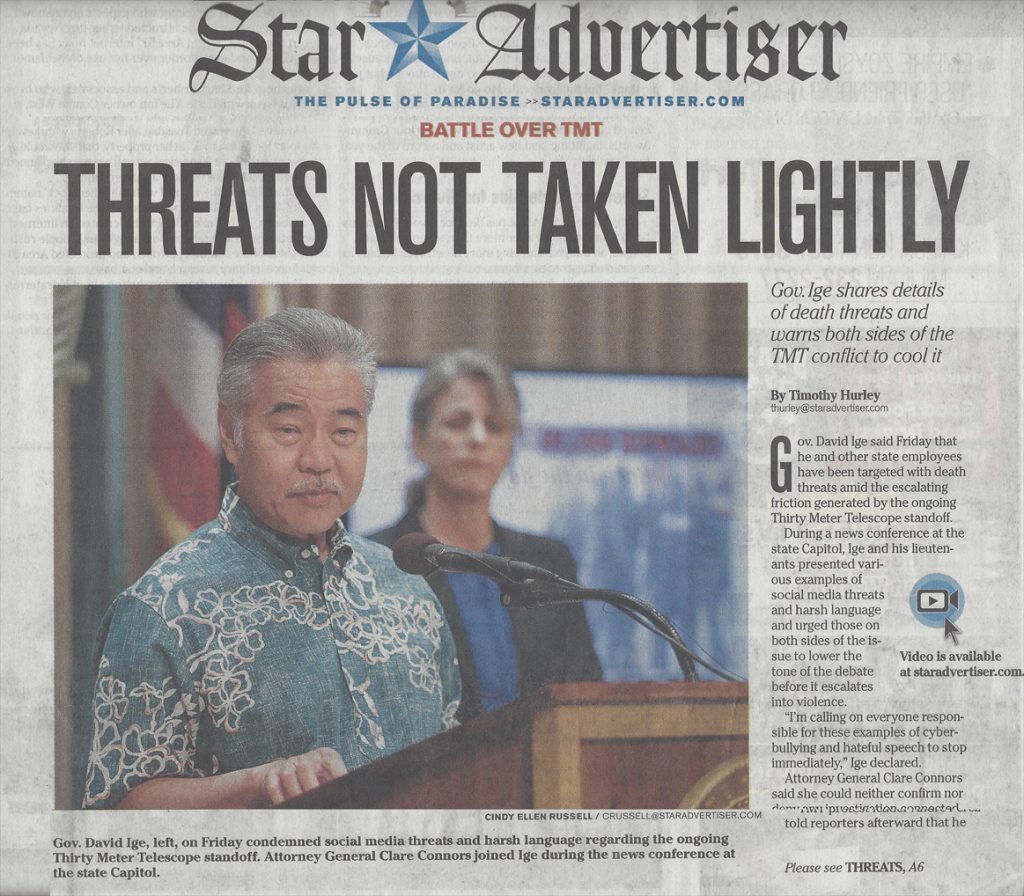 These records give the appearance that the governor instructed Long to create what appears to be a 'corporate fiction' in 2015–David and Dawn Ige Enterprises'.
That same year, the $3M was paid by TMT to Ms. Long's second company, the "Private Security Group," was co-officiated and administered by her husband Charles.
Charles too carries a disciplinary record. Charles was fined thousands of dollars by state investigators for employing unlicensed security personnel at a Honolulu musical event.
Even neglecting the shady history of the Longs, the public records, according to legal reviewers, provide sufficient 'probable cause' to require the FBI to investigate.
A widened FBI probe is especially proper in light of the known corruption and conflicting interests in the AGs office already under alleged federal investigations, under-reported by the media.
Governor Ige's Calls for "Civility" are Neglected by the FBI and HNN
At last Friday's press conference, Gov. Ige called for civility on both sides of the controversy.
"It's about how we speak to one another, . . . while we move toward this path to a resolution," he said.
The governor, state Attorney General Clare Connors, and other state officials objected to threats that were made against government officials after the state dismantled an un-permitted structure on Mauna Kea.
But while the governor was live-streaming his press conference, a "mass shooting" "threat" was reportedly made according to the FBI, HNN reported.
"There was a Facebook post [on Friday the 13th] that mentioned that there's going to be a mass shooting at the State Capitol this weekend," HNN and the FBI reported on Saturday, Sept 14th.
The social media "threat" was said to ask the question, "'Is anybody with me?,' something to that effect," said FBI Special Agent Jason White, who added that the agency was notified Friday night."
HNN clarified, "The post itself said: 'Mass shooting in the hawaii state Capitol this weekend who's coming?'"
Analysis and Commentary by 'The HOROKANE'
"Did anyone at HNN and the FBI stop to think that no government officials would be at 'the state Capitol' that Saturday or Sunday?" asked co-author of this report, Sherri Kane, a former FOX News LA investigator.
Kane, a co-host of Rock-the-Boat-Hawaii, broadcasting every Saturday morning from 8-9 a.m., currently on the state's most popular Hawaiian station, SHAKA 96.7FM, continued her analysis.
"For the FBI and HNN to broadcast that nonsensical question as a legitimate 'threat' of a mass-shooting stinks of negligence, malfeasance, and even terroristic threatening.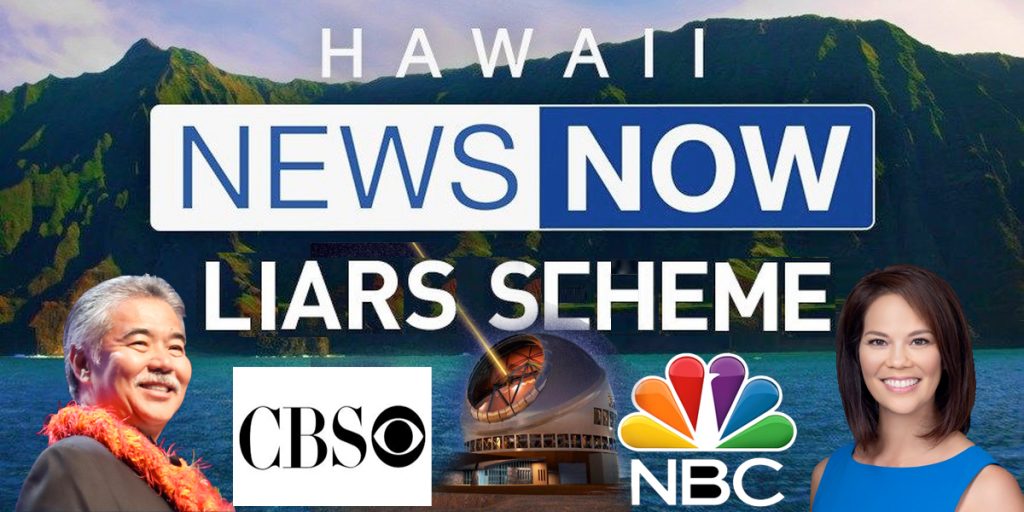 "This misrepresentation and public fraud gives the appearance that the FBI and HNN have purposely done what Gov. Ige urged people to stop doing–stop inflaming people on both sides of the issue. That begins the path to peace and justice, through ho'oponopono.
"Most disturbing, this FBI/HNN broadcast appears to be 'vile' and 'vicious' propaganda consistent with what is called 'predictive programming.' That is, an abuse of the media to condition citizens to anticipate escalating aggression by law enforcers," Kane concluded.
"There is no better explanation," agreed Harvard-trained behavioral science media analyst and Kane's radio show co-host, Dr. Leonard Horowitz.
"Anyone with any common sense and reasonable intelligence would conclude the post as a silly 'joke,' albeit expressing the writer's obvious anger against officials who have deprived native Hawaiians of their lands, and genocidally-damaged their people and culture for more than a hundred years."
"Either FBI Special Agent Jason White is an idiot, lacking common sense and reasonable discernment, and neglecting his duties and damage control, or else his aggression-escalating statements leveraged by HNN were planned as 'predictive programming' gearing up for more armed arrests, assaults on the Mauna, and worse," the doctor concluded.
The FBI's and HNN's Response Models Pompous Incivility and the Crime of 'Terroristic Threatening'
The FBI had dealt more responsibly with a similar 'joke' earlier this year.
In February, the Star Advertiser published, "Social media threats to Hawaii schools were a hoax, FBI says." Therein, the FBI explained that "students and faculty at the school were never in danger and the perpetrator intended the threat to be 'a joke,' but the agency doesn't see it that way.
"Making false threats drains law enforcement resources and cost taxpayers a lot of money," the FBI said in a press release. 'When an investigation concludes there was a false or hoax threat made to a school or another public place, a federal charge could be considered, which carries a maximum sentence of five years in prison."
That's a reasonable and responsible policy.
But notice how irresponsible and unreasonable HNN acted by going far out of the company's way to fraudulently misrepresent the obvious 'joke.'
They published: "'There was a Facebook post that mentioned that there's going to be a mass shooting at the State Capitol this weekend, and referenced 'Is anybody with me?,' something to that effect," said FBI Special Agent Jason White. . ."
That fraudulent misrepresentation is a misdemeanor violation of the Hawaii Revised Statute (HRS) 707-717 condemning "terroristic threatening in the second degree." HNN made it seem that the 'joke' was not a joke at all, but an imminent "mass shooting" threatening officials over the weekend.
And the aforementioned review of HNN's two articles on these matters shows a pattern and practice of violating HRS 707-717.
In essence, HNN has repeatedly defied the governor's appeal for civility, repeatedly broken the law, and repeatedly documented their terroristic threatening on September 11 and September 14th.
The FBI's and HNN's Response Models Pompous Incivility and Compounds Genocide
Officials are actually modeling and manufacturing incivility and disobedience to rules and laws, according to the aforementioned facts.
Furthermore, the entire time the alleged criminal actions advancing the TMT construction were being committed, numerous other crimes were being neglected across the state, permitting gangsters, drug dealers, and sex traffickers to be harbored, not prosecuted.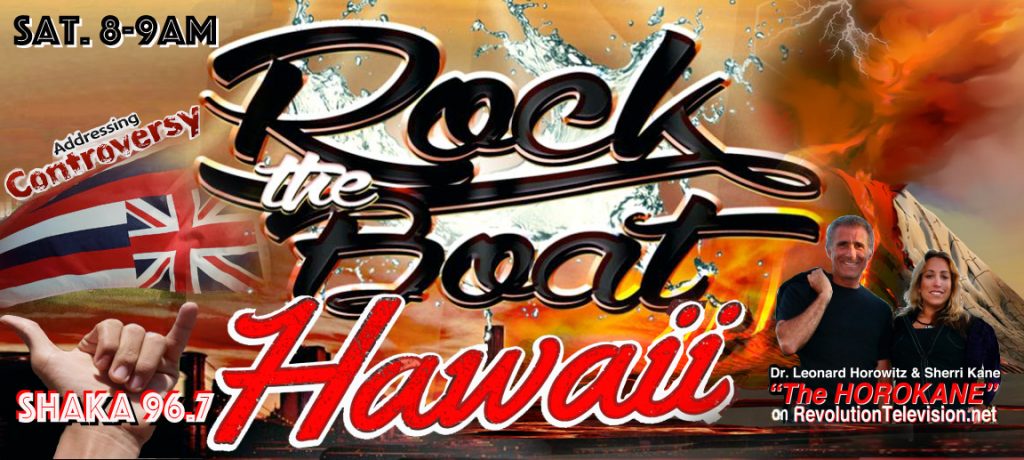 "We've been broadcasting shows about this injustice, dim law enforcement, officials' non-feasance and malfeasance, and the native Hawaiian genocide on Rock-the-Boat-Hawaii every Saturday morning from 8-9 a.m," said Kane.
"We began the show because we were fed-up with the amount of white collar organized crimes we were witnessing being neglected."
"We find it unconscionable that Hawaiians have been genocidally-damaged and denied their land and civil rights to valid due process for more than a hundred-and-thirty-years.
"It is appalling that so few legislators and law enforcers are talking about this genocide," Kane added.
"At least the similar wrongs done to Native Americans have been acknowledged with at least some reparations made. Not so here.

"On the mainland, where all of this news is being heavily suppressed, where the Kealoha convictions didn't get a minute of airtime, and where lawmakers are now proposing reparations for African-American damaged by Anglos, U.S. Rep. Sheila Jackson Lee, (D-Houston) leads discussions also applicable to the victims of the Hawaiian genocide.
These issues can't remain swept under the rug while Gov. Ige and the AG hypocritically promote 'civility' in constructive public dialogue."
Questions and More Mounting Evidence
"Can anyone help me?" asked one listener who requested anonymity.
"I'm trying to think of ways to find 'evidence' of David Ige's alleged cousin relationship to Keith Kaneshiro. I have a relative who told me about their supposed family ties.
Kaneshiro is the Honolulu prosecutor who was Katherine Kealoha's boss. He is now on paid leave ($170K+ yr) because he's being investigated by the FBI (according to the Star Advertiser).
"I'm wondering if the FBI is corrupt too? I found out the DEA is corrupt. A friend told me there are rats inside the FBI also.
"I don't know if anyone in government is trustworthy anyone.
"I found something suspicious. David Ige's and Keith Kaneshiro's families did their DNA ancestry and I found them online. I went on Geni and Ancestry so far, and looked through some of their family members' trees to see if there were connections. I think they censored something important.
"Kaneshiro's and Ige's mothers should have been listed by their original "surnames," NOT their married names.  That is all suspiciously private.
"I'm wondering if Governor Ige and Keith Kaneshiro will post online if they are related, as my relative told me they are.
"The Lord said, 'ask and you shall receive,' right? Asking isn't accusing. So I'm asking the governor and his wife to reveal their complete family ties."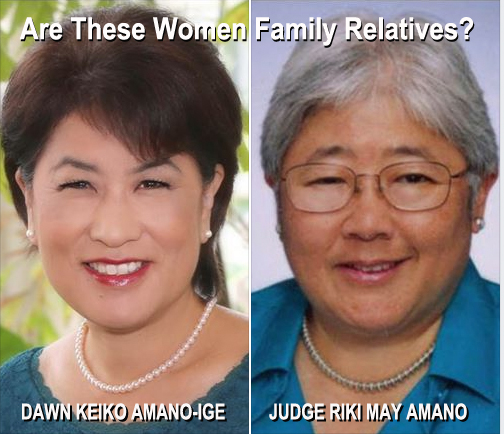 Then, another listener wrote us: "It's interesting that the 'David and Dawn Ige Enterprises' officers are DAVID YUTAKA IGE and his wife DAWN KIEKO AMANO-IGE…
"I wonder if there is a connection between Retired Judge Ricki Mae AMANO, who presided over the TMT Contested Case Hearings and DAWN AMANO IGE?"
Notice that the two independent listeners' searches raised the same complaints. The mothers' surnames were missing.
Users typically-publish family history data to reveal connections, not conceal ancestral connections.
So we decided to do our own searches. After exhaustive work, we corroborate the listeners' disappointment.
We discovered a pattern of censorship or 'fraudulent concealment' of the full family backgrounds. We noted that the parents' last names of Dawn Amano Ige and Riki Amano were suspiciously missing from several typically-complete and reliable databases.
"Considering that Ige Amano is the governor's wife, you would think that you would be able to find out who her parents are or were," Kane commented.
Next, we asked a professional face reader to compare the facial features of the two women. The expert informed us that police investigators use this type of analysis all the time. According to law enforcers facial recognition technology has been found to be accurate up to 98.1% of the time.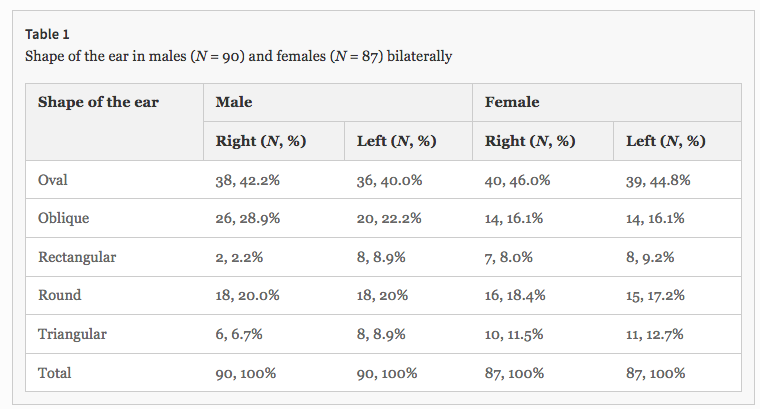 Our expert noted the following similarities, especially considering ear-shape science references and techniques used by forensic experts in law enforcement. She noted:
(1) The unique shape of the two womens' ears show an unusual concave shape of the 'tubercle' (the outer border of the ear) that a small minority of people have. These two women appear to have long rectangular ears with a unique inwardly curved tubercle, not a straight rectangular shape.

Even more rare, these two women show nearly the same precise curvature when viewed from the front. That is extremely unusual, and very likely runs uniquely in the same family.
Typically, when people's ears are viewed from the front as shown in the upper two photos, the ear protrudes roundly out; like an oval or round shape. Not these women. Their ears appear to be similarly rectangular and curved the opposite way (indented) when viewed from the front.
The photo below shows Dawn Ige's rectangular shaped ear from the side. Compared her thinner more rectangular ear with the governor's that is more round or oval.

From the science and mathematical percentages shown in the reference charts, known and used by professional investigators, the likelihood that the two women were from the same family is very high, based solely on this ear analysis and rare shape and curve of the tubercle alone. But there's more. . . .
(2) The two women share very similar eye shapes and structures. Their left eyes appear noticeably more open. The apparent slant of the eyes common to Asians is uniquely distinguished here by their right eyes being markedly more closed (due to their 'epicanthic folds.') 
Moreover, the inside of the left eye, adjacent the bridge of the nose, better shows that both women share unique downward indentations. Dawn Amano-Ige shows this more markedly.
Consequently, these eye findings compound the unique similarities of their ears. As a result, the probability that they are not blood kin is very remote.

(3) The shape of their lips are also quite similar. The upper lip is similarly limited in both photos, and the bottom lips are virtually the same size and shape.
Adding together the similarities of their ears, eyes and lips, there is (arguably) an extremely high probability of close kinship.

(4) The overall shape of the faces are also very similar, disregarding Judge Amano's weight.
(5) The shape of the jaw in both women (again disregarding the weight differentials) is much the same.
The main difference between the two women's facial features is the lower section of their noses, although their upper nose parts are similar.
Disregard hair color and eyebrow shaping that appears to be styled by Mrs. Amano-Ige.

In conclusion, there is a very high probability that the two women are relatively close blood kin.
There is a very high probability their common Amano name derives from common male siblings. That would make them first cousins. That is consistent with their ages. They were born four or five years apart, depending on which online source you read.

If that is the case (if they are close kin) these findings solidly debunk the governor's and the Longs' defense that the aforementioned incriminating public records are "without merit."
Here, the public records have helped to identify fraudulent concealments and public corruption undermining the entire TMT Contested Case Hearings conducted by Judge Amano.
Accordingly, the FBI must add the governor, the Longs, and Judge Amano, to their list of suspects in ongoing public corruption cases, to save face and vindicate law enforcement.

–End–
Related Articles:
CLICK HERE to Read "Governor Ige TMT Bribery Scandal Rocks Hawaii"
CLICK HERE to Read "TMT Hawaii News Now Bias and Threats of Litigation by Attorney Michael Green Opposed by Celebrity Doctor"
CLICK HERE to Read "The Secret TMT Military Story: Control Over Hawaii's Thirty Meter Telescope, Rail Projects and Mass Mind"
CLICK HERE to View the SPACE PEARL HARBOR video by 'The HOROKANE."

CLICK HERE to View the SPACEGATE movie trailer.
CLICK HERE to read "HOROWITZ v 7 HAWAII JUDGES: Civil Rights Violators Exposed in Drug Trafficking Public Corruption Case"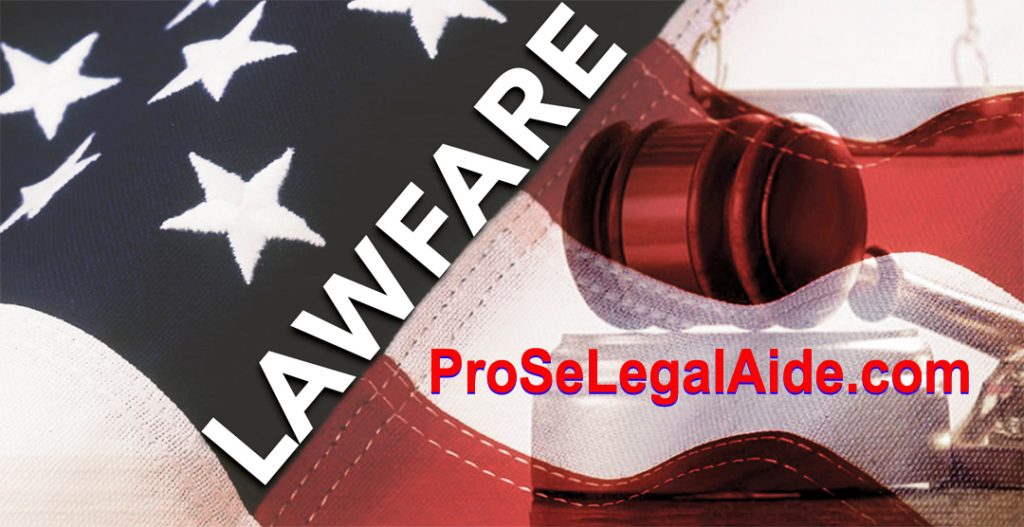 About 'The HOROKANE':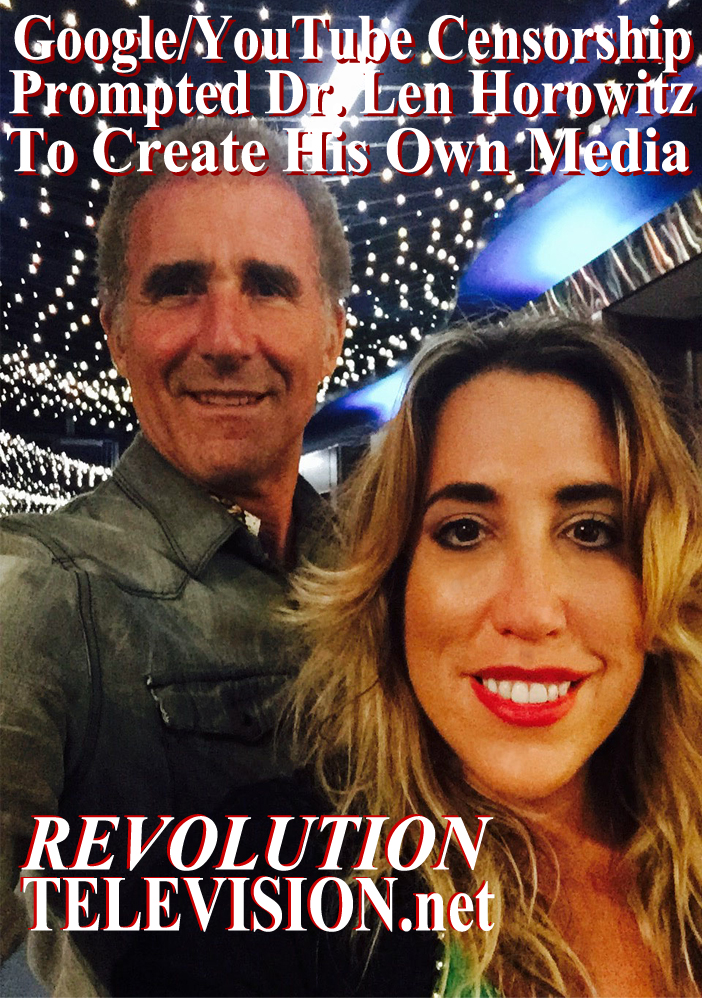 Dr. Leonard Horowitz, D.M.D., M.A., M.P.H., D.N.M. (hon.), D.M.M. (hon.), is the author of twenty two books, including the prophetically titled Death In The Air: Globalism,Terrorism and Toxic Warfare that came out three months before 9-11-01. That book deals with biological and energy weapons being used for population control. His three American best-sellers include: Emerging Viruses: AIDS & Ebola–Nature, Accident or Intentional? that was largely responsible for prompting explosive interest in vaccination risks and biological warfare; Healing Codes for the Biological Apocalypse, that revealed the ancient Solfeggio musical scale secreted for millennia; and Healing Celebrations: Miraculous Recoveries Through Ancient Scripture, Natural Medicine and Modern Science in which Dr. Horowitz presents his protocol for administering prevention and speedy recoveries applied by hundreds-of-thousands of health professionals worldwide. His most recent text, The Book of 528: Prosperity Key of LOVE, has prompted a revolution in the music industry improving recording artistry and music therapy with the use of C=528Hz(A=444Hz) tuning that produces "medicinal music." Dr. Horowitz's documentary, UN-VAXXED: A Docu-commentary for Robert De Niro won five international awards, including "Best Film – 2016" in London and Geneva competitions.
Sherri Kane
If you do a Google search on Sherri Kane, you will probably notice she has been widely defamed by the Troll Triad and their "socks"–a seemingly large group of racist, anti-Semitic, and sexist men who obviously feel their lives spent on the Internet libeling her is a profitable pastime.
Here are some political reasons why:
Sherri Kane is America's gutsiest investigative journalist, news commentator, psycho-social analyst, and political activist, specializing in uncovering what predators do to women, children, and even animals. She exposes human and animal rights violators, child sex traffickers, and human slavery networks, several involving high ranking government officials, more actively than anyone.
Sherri does not hesitate to investigate, analyze, and vet the dark world of government and intelligence agencies' corruption, and agents' complicity in organized crimes. She refutes the propaganda published to manipulate and damage people, and exposes what is being concealed by the FBI/CIA's COINTELPRO (that was supposed to have stopped abusing people and depriving human rights in 1976 by Acts of Congress). Sherri delves into conspiracy realities so dark that very few people dare to study them.
For instance, you may have heard of the political fracas involving certain members of Congress, a high ranking official in the Republican Party, and the mysterious disappearances and abuses of children at "Boys Town" in Nebraska, called "The Franklin Cover-up." Thanks to Ms. Kane's heroic investigative reporting, the matter has now been exposed as "The Franklin Double-coverup."
You may recall the Gulf Oil Crisis, maybe even the extensive coverage Jesse Ventura and TruTV gave to the "Conspiracy Theory" implicating Halliburton, BP, and TransOcean in the intentional explosion and environmental devastation in the Gulf of Mexico. Ms Kane sourced the story and appears in the segment.
Sherri wrote the foreword to Dr. Horowitz's music-industry-transforming book, The Book of 528: Prosperity Key of Love, and co-produced as a co-star Dr. Horowitz's controversial docu-comedy PHARMAWHORES: The SHOWTIME Sting of Penn & Teller, winner of the 2010 Accolade Award for "Uniqueness in Documentary Film-making." That film heavily influenced online video production for thousands of subsequent Internet producers. Sherri also stars in Dr. Horowitz's latest documentary, UN-VAXXED: A Docu-commentary for Robert De Niro. And Ms. Kane also co-wrote Space Pearl Harbor, reviewed in the 39-minute news program seen HERE.
Ms. Kane is the Vice President of Medical Veritas online journal, has published works in newspapers, magazines and many websites, and has been interviewed worldwide including on Al Jazeera's A9 Turkey, The Veritas Show, the BBC's Talk Radio Europe, Late Night In The Midlands, WAC Connecticut, LA Talk Radio, and many others. She co-hosts the Hollywood Spin series of film reviews with Dr. Horowitz viewed on RevolutionTelevision.net.
Sherri is currently collaborating with Dr. Horowitz on various projects including Healthy World Organization (HWO), the alternative to the corrupt World Health Organization (WHO), HealthyWorldAffiliates.com, and advancing the power of "528 Hz" frequency for global healing, as experienced at 528Records.com,  528Radio.com, and 528Revolution.com.
For their work together exposing devil-doing operatives in the media, Dr. Horowitz and Ms. Kane were christened "The HOROKANE" by their detractors.
E-mail inquiries to Editor@medicalveritas.org.