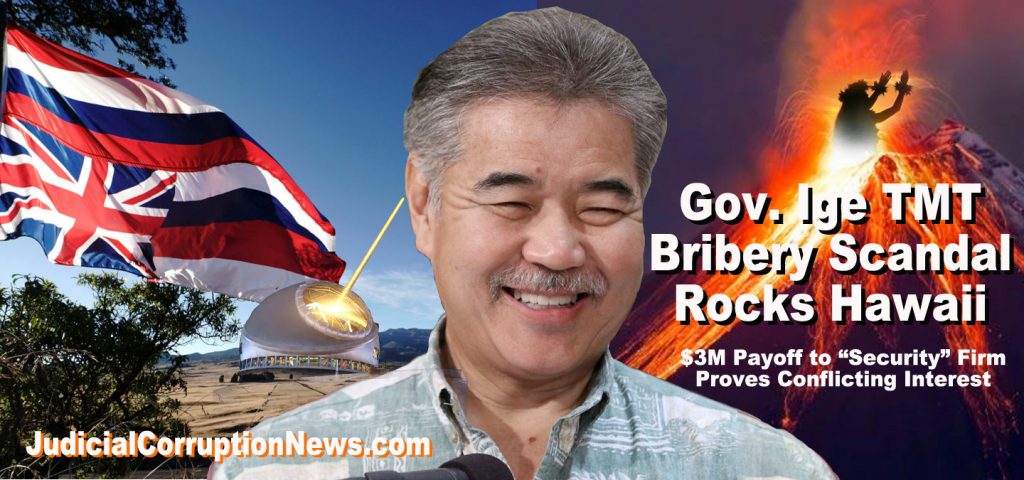 Conflicting Interests Uncovered in Hawaii Gov. Ige TMT Bribery Scandal
by
(Updated 9-11-19)
Honolulu, HI (9-7-19)–Mauna Kea 'Protectors' and Kingdom of Hawaii investigators have uncovered evidence of bribery in a $3 million payment taken by Gov. David Ige's agent through a private 'security' company proving conflicting interests in the planned construction of the world's most powerful telescope–the controversial Thirty Meter Telescope (TMT) opposed by millions of people worldwide.
Compelling evidence of bribery was first discovered in public records reviewed on the Facebook group ʻOnipaʻa Kākou. The records prove the Hawaii governor's apparent 'corporate fiction'–David and Dawn Ige Enterprises's–had conflicting ties to the $1.3 billion TMT construction project.
Quoting from the report as evidenced below, "In 2015, accordingly to their filed 990 tax form (which is a publicly available document), TMT (TMT International Observatory, LLC) paid $3,030,323 to local firm "Private Security Group" (1037 Hanohano Way, Honolulu, HI 96825) for security services.
"Upon doing a basic search of the Department of Commerce and Consumer Affairs (DCCA) website, it shows that "Private Security Group, Inc." (File Number 203631 D1) is a domestic profit corporation registered in 2003 to a Charles L. Long, 7192 Kalaniakaole Hwy. Suite G100 Honolulu, HI 96825. The officers and owners of this private for-profit company are Charles Long (CEO, President and Director), Melanie Long, and Bradford Long.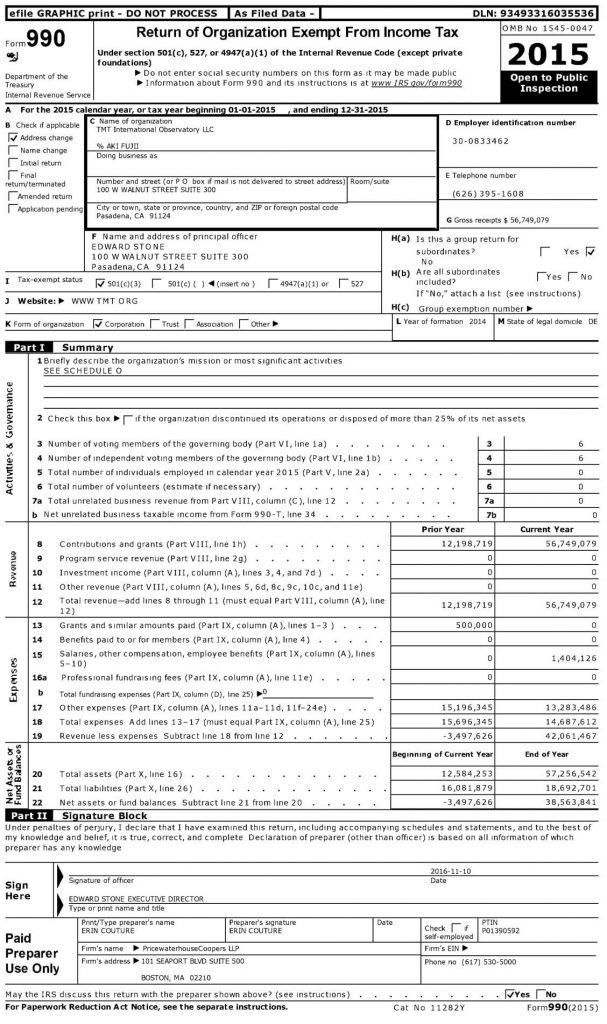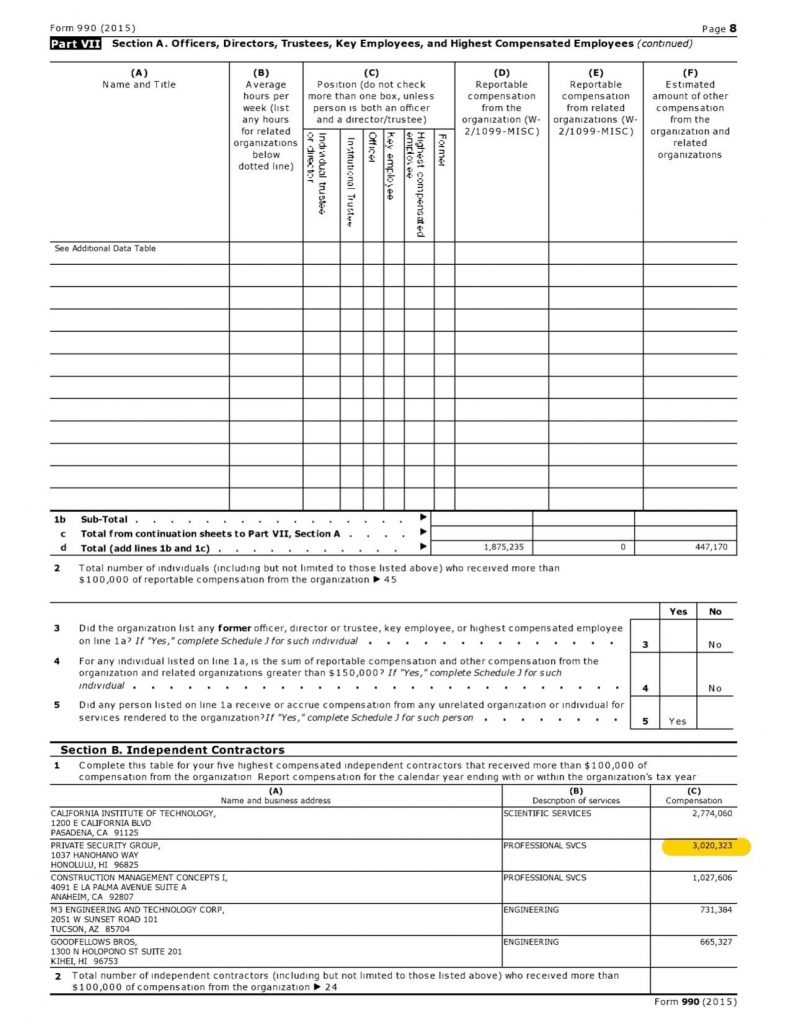 "Upon doing an 'agent search' at the same DCCA website for Charles Long and Melanie Long, owners of Private Security Group. Melanie Long appears as the agent for Pacific International Realty, Inc. (File Number 214667 D1), address 7192 Kalanianaole Hwy Suite G-102. Honolulu, HI 96825.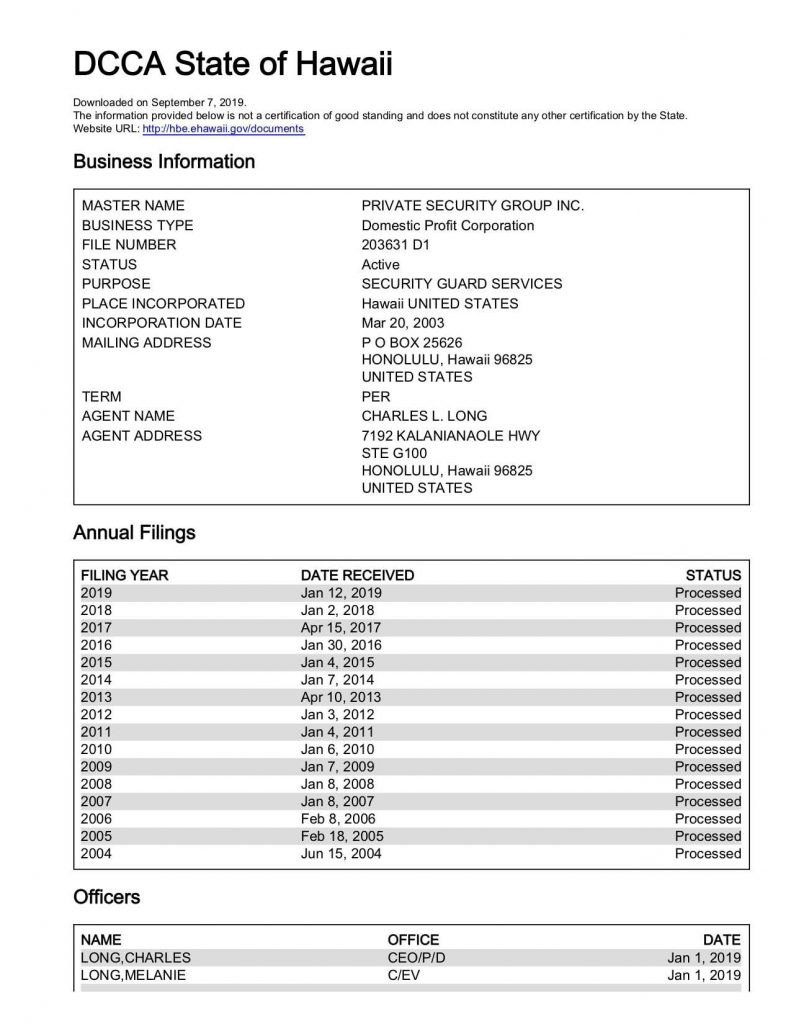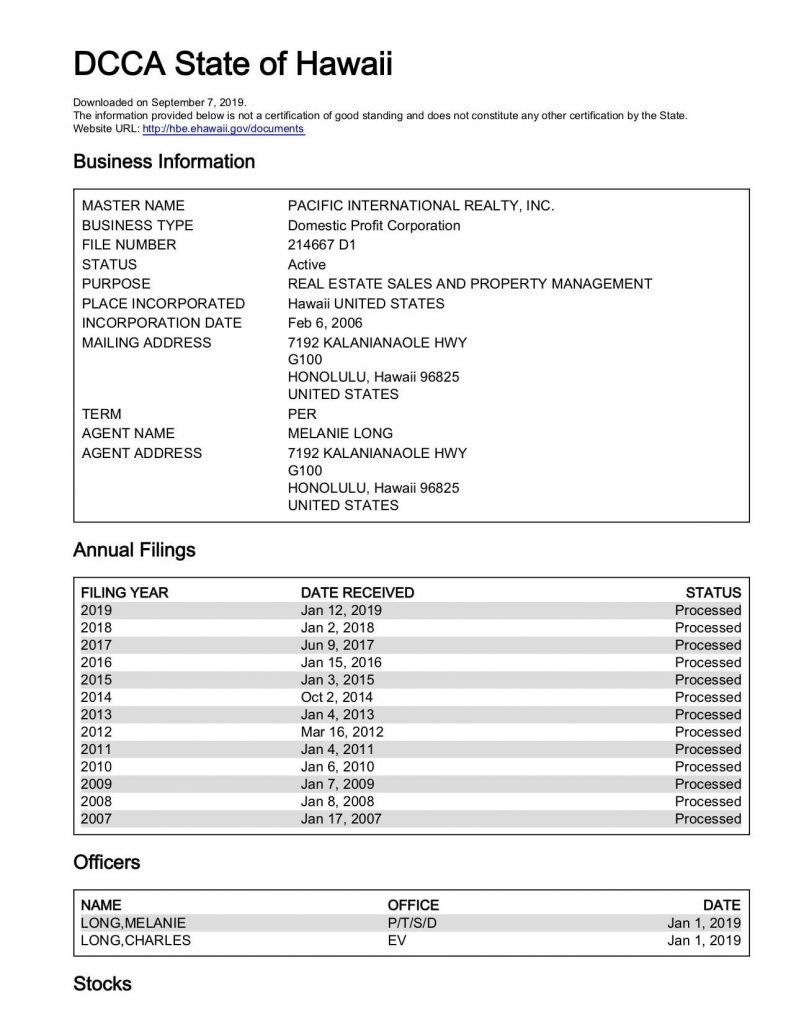 "Upon searching for Pacific International Realty, Inc. as an agent, only one business appears: David and Dawn Ige Enterprises.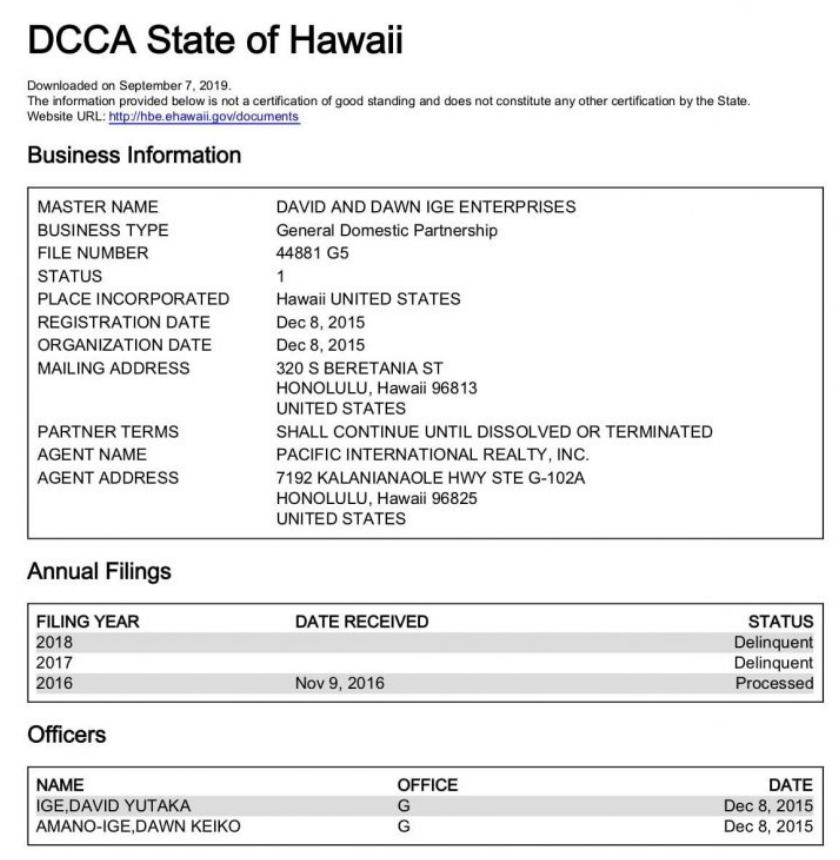 "David and Dawn Ige Enterprises is a general domestic partnership (File Number 4481 G5) first registered in 2015. The mailing address is 320 S. Beretania St. Honolulu, HI 96813 (Washington Place). The registered agent of David and Dawn Ige Enterprises is Pacific International Realty, Inc, 7192 Kalanianaole Hwy Suite G-102. Honolulu, HI 96825, whose owners are Charles and Melanie Long, the same owners of Private Security Group that received over $3 million for the TMT Security Contract."
Questions Raised Concerning Ige TMT Bribery
The evidence presented above by the ad hoc citizens' group of investigators raises substantial questions of fact, law, and ethics.
$3,030,323 passed through Gov. Ige's agent, Melanie Long's company, the "Private Security Group," for "professional services."
Shall investigators presume these "professional services" were provided  for "security guard services" to secure the TMT construction site, equipment and personnel? Or some other "professional service" such as to secure Gov. Ige's official action to advance the project?
Melanie Long used Pacific International Realty, Inc., to agent for the Governor and his wife's company, David and Dawn Ige Enterprises; and Melanie's other company, Private Security Group, got $3 million that same year, 2015, from TMT officials. Those 2015 transactions were suspicious for a number of reasons, among which Ms. Long's real estate company does not act as an 'agent' for any other registered entity in the State, according to online investigators.

Consequently, this appears to have been a 'unique deal.' A transaction in which Gov. Ige, his agent(s), and their companies, appear to have formed an 'enterprise' to administer conflicting interests in the TMT project and payments therefrom.

These parties now have much explaining to do to legislative investigators and law enforcers. Did Ige and the Longs commit ethical violations, and possibly a "Class B Felony" too, by breaking Hawaii's anti-bribery law, HRS  § 710-1040?
Beginning Analysis in the Ige TMT Bribery Scandal: Appearance of Conflicting Interests and Ethics Rules Violations
To begin our analysis, we considered a recent Hawaii State Ethics Commission report on a similar matter involving a legislator and real estate agent. Curiously, it was filed June 20, 2019–the same day Supreme Court Chief Justice Mark Recktenwald proposed an important, generally unpublicized, ethics rule change enabling lawyers to lie in courts or elsewhere to anyone so long as they claim to be "participating" in a "covert action" for some secret agency. (1)
Below is what the ethics commissioners wrote about the law defining the ethical code for legislators, considering "The Conflicts of Interests Law, HRS § 84-14." This law states in relevant part:
§84-14  Conflicts of interests.  (a)  No [government employee] shall take any official action directly affecting:
     (2)  A private undertaking in which the employee is engaged as legal counsel, advisor, consultant, representative, or other agency capacity.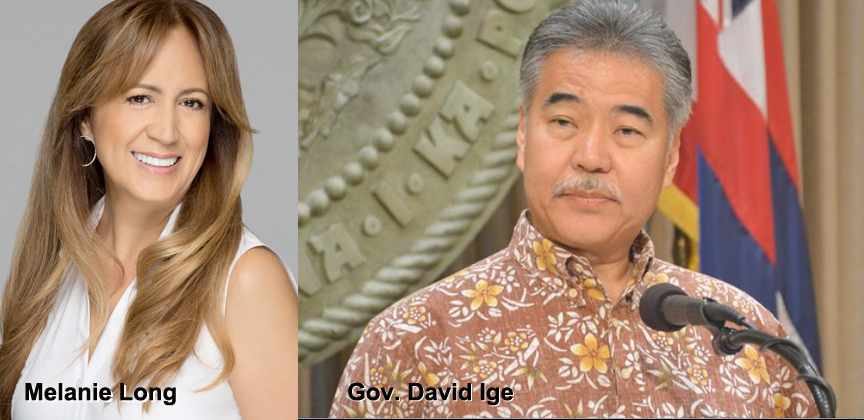 The public records shown above, along with Gov. Ige's advocacy for the TMT, shows that Gov. Ige took official action in the construction project directly affecting "A private undertaking in which the [Governor] is engaged as . . . other agency capacity" with his agent, Melanie Long.
The "other agency capacity" in this case is the two other agencies in which Melanie Long acts in private transactions for both David and Dawn Ige Enterprises as well as Pacific International Realty, Inc. Ms. Long clearly provides services and financial benefits for the governor in David and Dawn Ige Enterprises.
Ms. Long (and her husband's) "Private Security Group" was paid more than $3M for ill-defined "professional services," to "secure" the construction that was not yet even built in 2015.  It is unreasonable to assume $3 million was paid to protect a vacant piece of land at the top of Mauna Kea. Therefore, unless construction equipment and personnel required security services in 2015 from Charles Long's company (which would need to be proven in court) it may be presumed that the money was paid to 'secure' the construction project for which the Gov. advocates officially.
Further analysis regarding the "arms-length" business dealings undoubtedly to be raised by Gov. Ige in his legal defense is included below.
Returning to the Ethics Commission's report, "the rationale underlying section 84-14(c) is that when private compensation paid to a state official is contingent upon action taken by a state agency, there exists a greater danger that the official will use his or her state position in an improper manner to obtain the desired state action."
The Commission also stated that "this is especially the case where a state agency has jurisdiction or authority over a particular matter so that action taken by the agency will determine whether or not one is compensated for one's private involvement in that matter." This means that Gov. Ige's special relationship with Melanie Long must be scrutinized before the TMT project may validly or legally proceed further.
This also means that Gov. Ige must be called before the legislature to answer questions about his special relationship with the Longs, including any compensation Ige paid Melanie Long for her agency on behalf of the Governor's company David and Dawn Ige Enterprises, and any money paid by the State for transactions involving the Private Security Group (beyond the money being paid to this group by TMT), or any involvement in land deals by Pacific International Realty associated with the TMT project.
Ige TMT Bribery Scandal Raises Questions of Law and Intent
"Bribery," as defined by local lawmakers in HRS §710-1040, is actionable if or when: (1) "(a) The person confers, or offers or agrees to confer, directly or indirectly, any pecuniary benefit upon a public servant with the intent to influence the public servant's vote, opinion, judgment, exercise of discretion, or other action in the public servant's official capacity."
Based on the aforementioned evidence, Melanie Long, and perhaps her husband Charles too, must be investigated by a grand jury for 'probable cause' in the "Ige TMT bribery scandal" because Melanie Long clearly conferred her agency service on behalf of the governor and his wife's David and Dawn Ige Enterprises; while at the same time being positioned to make far more than $3 million dollars with her husband following Gov. Ige's successful administration of support in pushing the TMT forward to construction and continued operation.
The challenge for investigators or prosecutors lies in the word "intent." To prove Long or Gov. Ige guilty of a Class B felony, prosecutors would have to prove that Long provided her agency services for the governor to receive a pecuniary benefit with the "intent" to influence Gov. Ige's official action to secure the TMT in any way.
A 'pecuniary benefit' is implied by the provision of agency services by Melanie Long for the governor and his wife. But the matter of intent to influence the governor politically must still be proven.
Intent implicating Long and Gov. Ige in bribery is evidenced by the corresponding 2015 date that Long acted to form David and Dawn Ige Enterprises and received the $3 million dollars from the TMT enterprise. This fact is compelling. It raises probable cause to investigate Ige's bank accounts for any deposits made after the TMT group or Price Waterhouse Coopers (PWC) administered the 2015 $3 million payment.
The DCCA's public record shown above details Melanie Long's administration of the David and Dawn Ige Enterprises registration. This raises evidence of intent to give and receive a financial bribe. As you can see the date of December 8, 2015 is registered as the date the organization began. You can also see that occurred within the same year, perhaps within days or weeks, of the TMT's payment to Charles Long's Private Security Group.
The public record shown below implies that Gov. Ige and his wife had no further need for this company by the end of 2016. Mrs. Long and the Iges did not file any further required annual reports beyond that single 2016 year. This "delinquency" raises the high probability that Ms. Long and the governor formed this entity simply as a 'corporate fiction' or Ige's 'alter ego'–a sham/shell entity to receive the suspected or presumed bribe for TMT. Bank transactions, or real estate transactions, for the David and Dawn Ige Enterprises entity must be scrutinized by investigators to dispel what is being called a "rumor."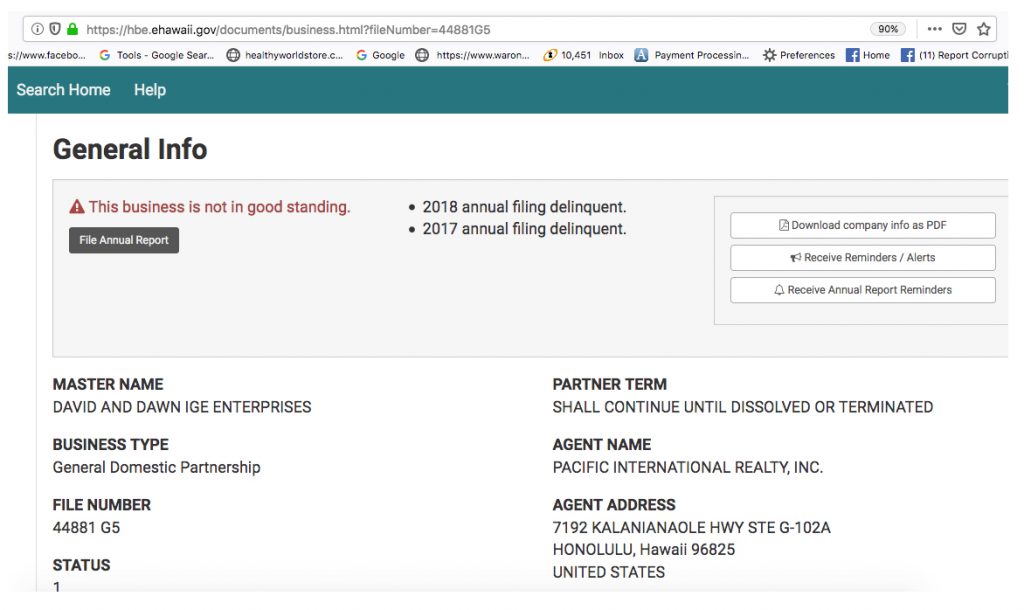 Contrary to threats of lawsuits brought by the Longs on behalf their and the Iges reputations, given these circumstances, widespread social interest and concern, and the aforementioned facts, bribery must be presumed. Because there are simply too many facts that raise the probability of bribery.
In law, a pattern of facts presents a 'presumption of facts' that yield a 'presumption of guilt.'
So by law, Gov. Ige must be investigated, and possibly indicted for justice to prevail, by reason of the presumption of guilt raised by the aforementioned public records.
Further evidence of criminal wrongdoing is evidenced by the DCCA's 2015 "Settlement Agreement" with Charles Long's Private Security Group bearing Gov. Ige's authority, as shown in the record below (from Case Number: PDG 2014-195-L). On May 14, 2015, Long's company was fined $3,000 for breaking the law HRS § 436B-19(16) by "employing unlicensed guards" to secure a musical event in Honolulu.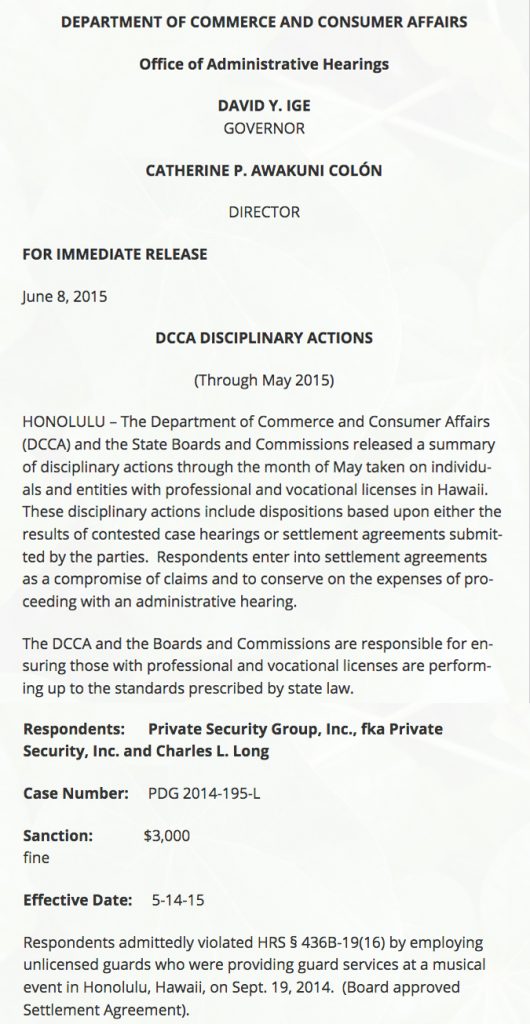 It is now up to the State legislature and/or the courts to pierce the veil on David and Dawn Ige Enterprises. The bank records must be subpoenaed to determine what, if any, 'pecuniary' enrichment occurred through this apparent corporate fiction following the TMT's $3 million payment to the Long's "Private Security Group."
Likewise, the Long's Pacific International Realty, Inc. bank records must also be thoroughly investigated under grand jury subpoena, to find any similar evidence of transactions associated with the allegation or charge of bribery involving the governor.
Gov. Ige's "Arms Length" Defense May Be Challenged
As mentioned above, Gov. Ige is likely to defend his associations and transactions in this matter by asserting an "arms length" defense. He is likely to claim his official actions were far-enough removed from his association with Melanie Long so that the $3 million payment Charles Long received does not qualify as evidence of any wrongdoing on his part.
Investigators and prosecutors may oppose this argument by relying on the U.S. Supreme Court's ruling in Container Corp. of America v. Franchise Tax Bd., 463 US 159 – Supreme Court 1983. Therein, the chief justices considered taxable transactions committed by international parties controlling separate entities as may be considered with the TMT project involving foreign countries including Japan, China and Canada.
As the Supreme Court noted, "the 'arm's-length' approach is generally based, in the first instance, on a multicorporate enterprise's own formal accounting. But, despite that initial reliance, the "arm's-length" approach recognizes, as much as the formula apportionment approach, that closely related corporations can engage in a transfer of values that is not fully reflected in their formal ledgers. Thus, for example, 26 U. S. C. § 482 provides:
"In any case of two or more . . . businesses (whether or not incorporated, whether or not organized in the United States, and whether or not affiliated) owned or controlled directly or indirectly by the same interests, the Secretary [of the Treasury] may distribute, apportion, or allocate gross income, deductions, credits, or allowances between or among such . . . businesses, if he determines that such distribution, apportionment, or allocation is necessary in order to prevent evasion of taxes or clearly to reflect the income of any of such . . . businesses."[27]
And, as one might expect, the United States Internal Revenue Service has developed elaborate regulations in order to give content to this general provision."
Thus, it remains to be seen whether or not Hawaii legislators, tax officials, and/or grand jurists, will apply a similar "distribution, apportionment, or allocation" in this Ige TMT bribery case as "necessary in order to prevent evasion of" justice.
This Ige TMT Bribery Matter Raises Questions About Price Waterhouse Cooper's Administration of Accounts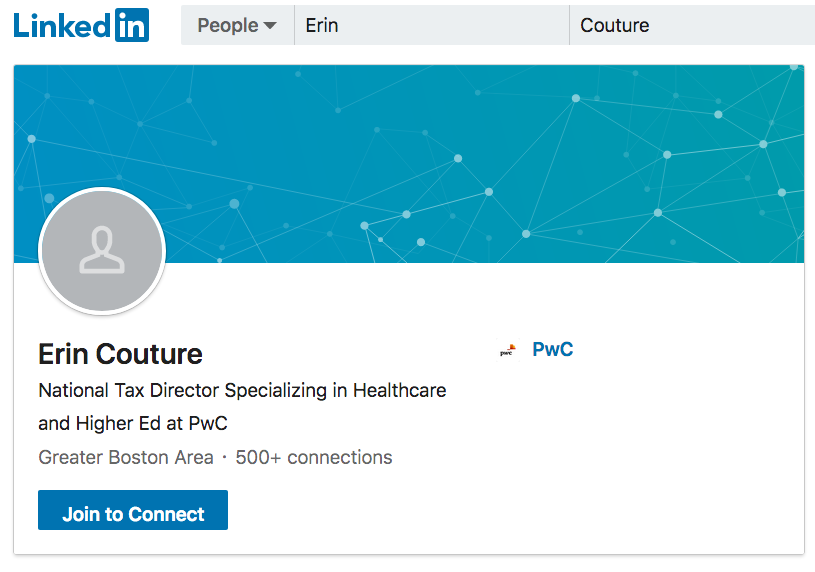 You can see from TMT's Tax Return for 2015 that it was prepared by Erin Couture in Boston for the National Tax Service of Price Waterhouse Coopers (PWC).
You can also see from Ms. Couture's LinkedIn advertisement that she specializes in "Healthcare and Higher Ed at PwC".
Also shown on that Tax Return, is that it was endorsed by Dr. Edward C. Stone. Dr. Stone served as chairman of the Board of Directors of the California Association for Research in Astronomy, which is responsible for building and operating the W.M. Keck Observatory with its two ten-meter telescopes on Mauna Kea. He also served as Director of the W.M. Keck Foundation under the governance of James Baker, III–Secretary of State under George H.W. Bush, and other high-ranking officials comprising what the national press today calls the 'Deep State.' (2)
Below is a list of the major institutional investors in the company that paid Ms. Couture to file the TMT's tax return through PwC. Simply by examining this one record, not dozens more involving other institutional parties involved, it is apparent that major financial institutions have massive amounts of stockholders' money invested in seeing the $1.4 billion TMT project completed.
As indicated by the previously evidenced '"fraudulent concealment" of the "dual use" military, astronomical and commercial value of the TMT, this prejudicial concealment of important facts has been wrongfully imposed by Hawaii justice officials during the 'open' public hearings and related lawsuits.
Ms. Couture and Dr. Stone may know nothing about these corrupted proceedings; nor how their services are abused to aid-and-abet organized crime surrounding the TMT construction. Such is the case here.
In our opinion, Gov. Ige's and the Long's public records shown above represent a 'drop-in-the-bucket' of organized white collar crime surrounding the TMT construction and land conversion scheme according to our previous investigations, films, and publications.(3)
It would be unconscionable for any civilized and intelligent person to endorse the TMT project without validating the integrity of the individuals, corporations and institutions involved. (4)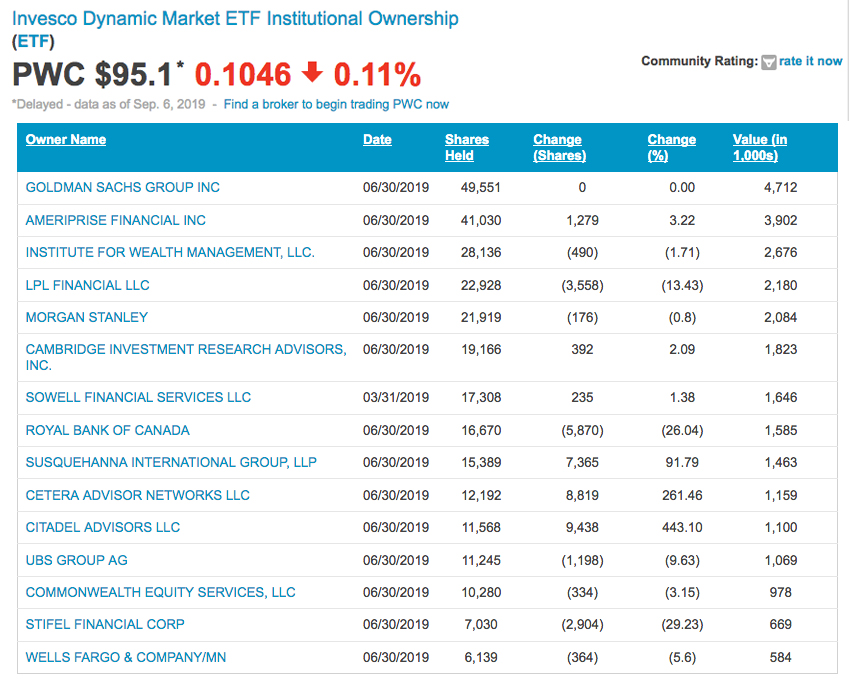 –End–
Footnotes:
(1) Readers are urged to file opposition to the "covert action" ethics rule change before the deadline of September 20, 2019 by CLICKING HERE.
Fill in the blanks using the suggested opposition provided HERE IN RED. Why is this important, even urgent for American citizens beyond Hawaii residents? Here's one reason and example regarding the TMT 'railroading'.
The Star Advertiser reported on Sept. 4, 2019, that "Krishna F. Jayaram, special assistant to Attorney General Clare E. Connors, said he would not comment on 'operational details' in connection with the protests, but noted that . . . the protesters' assertion that state law enforcement is 'considering using excessive force… to punish and suppress our people' is utterly wrong." [Emphasis added.]
According to Hawaii Supreme Court Chief Judge Mark Recktenwald's proposed ethics Rule 8.4(c) change, Mr. Jayaram could be lying about this, and be totally immune to disciplinary or even criminal action for defrauding the public in the event "excessive force" is abused.
The evidence here, and more below, show financial transactions between the TMT and the Long-Ige 'enterprise'  akin to 'insider trading.' Under the proposed ethics rule change, any lying lawyer could get away with any and all fraud in defending the governor or his agents.
They would be, after considered State "covert operations" such as this one, stated to be operationally concealed by AG Asst. Jayaram. Federal agencies are also 'interested' and 'participating' in these matters.
These include military officials concerned about the CCID chip "eye of the telescope" falling into the hands of foreign governments, or the CIA spy agency seeking to use the telescope for 'triangulated' satellite surveillance, or the FBI concerned about federal law violators and risk to national security, or others.
But the lying lawyers could also be working for the corrupted government, or the mob–black market drug dealers and/or racketeers in white collar organized crimes, including land thievery.
(2) According to Wikipedia, James Addison Baker III "is an American attorney and political figure. He served as White House Chief of Staff and United States Secretary of the Treasury under President Ronald Reagan, and as U.S. Secretary of State and White House Chief of Staff under President George H. W. Bush. . . .
In 2000, Baker served as chief legal adviser for George W. Bush during the 2000 presidential election campaign and oversaw the Florida recount" in which Mr. Baker was evidenced "fixing the election" by depriving Democratic candidate Al Gore of the Black vote in the recount.
(3) These publications include: SPACEGATE: The Militarization of Sacred Mauna Kea; the Official website for SPACEPEARLHARBOR.com, the articles "Treason on Mauna Kea: TMT Military Mission Concealed";  "TMT and the Military"; and "Astronomer 'Kanehau' Responds to Open Letter to David Bock from Dr. Leonard Horowitz". See also: Deep State Drops Nuclear PSYOPS on Hawaii.
(4) As one reader wrote, it is also "[i]nteresting that the 'David and Dawn Ige Enterprises' officers are DAVID YUTAKA IGE and his wife DAWN KIEKO AMANO-IGE… I wonder if there is a connection between Retired Judge Ricki Mae AMANO, who presided over the TMT Contested Case Hearings and DAWN AMANO IGE." We also considered this for further investigation, and encourage others to do the same.
Governor Ige Responds to Allegations of Bribery
Within 24 hours of this article's posting, Governor Ige officially responded. He published the following statement on his Facebook page (as shown in the inset):
"The Iges do not have any financial relationship with TMT. They contracted Pacific International Realty, Inc. to manage the home they have rented out. Any suggestion of a connection between this property management contract and TMT is utterly without merit–Office of the Governor."
'The HOROKANE's' Reply and Analysis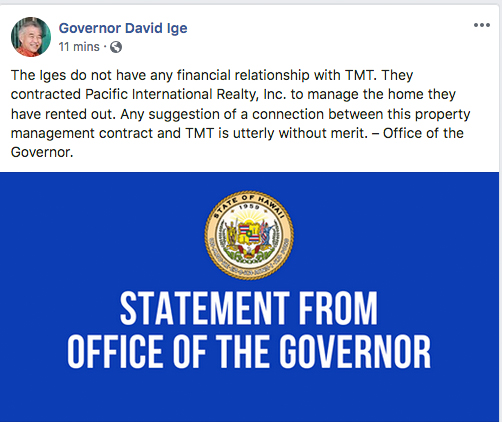 Assuming Gov. Ige's statement were true; that is, that the Iges "contracted Pacific International Realty, Inc. to manage the home they have rented out," that does not explain-away five (5) important and incriminating facts:
(1) least important, the selection of Melanie Long's company, among dozens of other real estate management firms available to the governor with no appearance of conflicting interests, was 'unwise' (to say the least);
(2) the short (single year 2016) duration of the Iges 'home rental' entity, David and Dawn Ige Enterprises, is inconsistent with the governor's words, "the home they have rented out."(The governor did not add, 'only for the year 2015.' The governor's Reply thus infers long-term rentals and years of Ms. Long's services.)

(3) Furthermore, Ige Enterprises was formed, administered, and then abandoned by the individual Melanie Long, not actually the corporation, Pacific International Realty, Inc.
These facts from public records infer a short-term 'home rental' management contract with Ms. Long, not a long-term contract as the governor's statement implies. This 'confusion' could be seen by jurors in the Court of Public Opinion or elsewhere, as unreasonable. Who, after all, goes through the trouble of hiring a property management company to form a new partnership entity for a husband and wife, only to have it serve a 'long-term' home rental contract for only a single year?

(4) Melanie Long did more than manage the Iges' rental property, according to the public records.

Ms. Long acted as a legal agent to file the Ige's enterprise paperwork with the State.  Further, had Ms. Long done what Gov. Ige states, then she would also have personally acted as a fiduciary for the governor and his wife, funneling money paid by 'renters' through Pacific International Realty, Inc. to their short-lived or legally-disregarded entity, Ige Enterprises.
Where did the money go from there? Where did the 'rental income' go after the Ms. Long stopped filing Ige Enterprises' paperwork with the State in 2017?

It is unreasonable to presume that David and Dawn Ige Enterprises was dissolved, or neglected by Ms. Long and her clients, because there were no 'renters.'

(5) Gov. Ige made no mention of Melanie Long in his official statement. Despite being the key suspect whose agency actions with her husband give the appearance or presumption of bribery, no mention of Long is made.
The governor's Response is evidence. As explained by the late Supreme Court Justice Louis Brandeis, in United States ex rel. Bilokumsky v. Tod, 263 US 149 – Supreme Court 1923 "Conduct which forms a basis for inference is evidence. Silence is often evidence of the most persuasive character." (at 154)
In this instance, Gov. Ige's omission of Ms. Long's personal involvement infers lacking candor, conflicting interests, and further evidences wrongdoing. The governor's silence about Ms. Long may be reasonably construed as "evidence of the most persuasive character." (Id.)
Gov. Ige will need to come clean on his personal relationships with Melanie and Charles Long, as the above article details. The compounding evidence of wrongdoing imposes a pubic duty upon Gov. Ige for candor and transparency. The lame justification the governor provides is a good political strategy, but a poor legal defense.
Similarly, it remains to be seen how long the mainstream media, locally and nationally, will extend their similar 'silence' in these matters of alleged conspiracy and TMT-related cover-ups. As published by Hawaii News Now on September 11, 2019, threatening lawsuits against publishers of the 'rumor' of bribery is both silly, and incriminating. A legitimate news agency would address the merits of the legal arguments raised by the public records.

The editors of all local news outlets were noticed on these matters months ago according to the investigators turned whistleblowers. It is neither surprising the Hawaii News Now coverage occurred with 48 hours of this posting on JudicialCorruptionNews.com, nor that this website was not credited for serving its public duty in publishing information of social importance censored by the multi-national corporate-controlled media.

The media bears a responsibility of public duty in exchange for its First Amendment rights and commercial license(s). The media has breached its contract.
In fact, Hawaii News Now, along with "high profite attorney" Michael Green, may need to defend their apparent Class C felony, having threatened citizens for merely spreading public records evidencing the truth being suppressed by the media and neglected (thus far) by law enforcers. HRS §710-1071  Intimidating a witness law criminalizes any "threat directed to a witness or a person he believes is about to be called as a witness in any official proceeding, with intent to: (a)  Influence the testimony of that person; (b)  Induce that person to avoid legal process summoning him to testify; or (c)  Induce that person to absent himself from an official proceeding to which he has been legally summoned."
It is unreasonable to argue Mr. Green's and the Longs' threats of legal retaliation against whistleblowers does not follow their reasonable concern that they, along with Governor Ige, could be called as defendants in an official proceeding.
And aside from threatening lawfare in the spirit of a Class C felony, readers can note the misrepresentation and omission in the Hawaii News Now article. It states: "TMT paid $3 million to Private Security Group run by Charles Long since 2015 for security at its construction site at Mauna Kea." To the contrary, the money was paid for 'professional services" in 2015. It is unknown at present how much more, if anything, was paid in fiscal years 2016 thru 2019.
If the mainstream news media continues its pattern and practice of misrepresenting and omitting important facts, and evading such matters altogether, then clearly the public is being defrauded and the wrongdoers may be held liable in a class action lawsuit bringing a civil RICO claim.

Also, under these circumstances, citizens have no other recourse than to form their own publishing networks as modeled here on JudicialCorruptionNews.com.
Reply from Investigators in Onipaʻa Kākou
"While the Governor is busy defending himself and his relationship with the Longs, we're just going to leave Melanie Long's (formerly Crowell) federal conviction for possession with intent to distribute meth right here.
Just so we're clear: Governor Ige hired a federally convicted METH DEALER to manage his property.
We're looking forward to the Governor's reply on this one.
Please feel free to share."
To download and examine the public records evidencing the statements in this Reply, CLICK HERE.
CLICK HERE

to Read the Reply from Dr. Horowitz to Hawaii News Now!
About 'The HOROKANE':
Dr. Leonard Horowitz, D.M.D., M.A., M.P.H., D.N.M. (hon.), D.M.M. (hon.), is the author of twenty two books, including the prophetically titled Death In The Air: Globalism,Terrorism and Toxic Warfare that came out three months before 9-11-01. That book deals with biological and energy weapons being used for population control. His three American best-sellers include: Emerging Viruses: AIDS & Ebola–Nature, Accident or Intentional? that was largely responsible for prompting explosive interest in vaccination risks and biological warfare; Healing Codes for the Biological Apocalypse, that revealed the ancient Solfeggio musical scale secreted for millennia; and Healing Celebrations: Miraculous Recoveries Through Ancient Scripture, Natural Medicine and Modern Science in which Dr. Horowitz presents his protocol for administering prevention and speedy recoveries. His most recent text, The Book of 528: Prosperity Key of LOVE, has prompted a revolution in the music industry improving recording artistry and music therapy with the use of C=528Hz(A=444Hz) tuning that produces "medicinal music." Dr. Horowitz's documentary, UN-VAXXED: A Docu-commentary for Robert De Niro won five international awards, including "Best Film – 2016" in London and Geneva competitions.
Sherri Kane
If you do a Google search on Sherri Kane, you will probably notice she has been widely defamed by the Troll Triad and their "socks"–a seemingly large group of racist, anti-Semitic, and sexist men who obviously feel their lives spent on the Internet libeling her is a profitable pastime.
Here are some political reasons why:
Sherri Kane is America's gutsiest investigative journalist, news commentator, psycho-social analyst, and political activist, specializing in uncovering what predators do to women, children, and even animals. She exposes human and animal rights violators, child sex traffickers, and human slavery networks, several involving high ranking government officials, more actively than anyone.
Sherri does not hesitate to investigate, analyze, and vet the dark world of government and intelligence agencies' corruption, and agents' complicity in organized crimes. She refutes the propaganda published to manipulate and damage people, and exposes what is being concealed by the FBI/CIA's COINTELPRO (that was supposed to have stopped abusing people and depriving human rights in 1976 by Acts of Congress). Sherri delves into conspiracy realities so dark that very few people dare to study them.
For instance, you may have heard of the political fracas involving certain members of Congress, a high ranking official in the Republican Party, and the mysterious disappearances and abuses of children at "Boys Town" in Nebraska, called "The Franklin Cover-up." Thanks to Ms. Kane's heroic investigative reporting, the matter has now been exposed as "The Franklin Double-coverup."
You may recall the Gulf Oil Crisis, maybe even the extensive coverage Jesse Ventura and TruTV gave to the "Conspiracy Theory" implicating Halliburton, BP, and TransOcean in the intentional explosion and environmental devastation in the Gulf of Mexico. Ms Kane sourced the story and appears in the segment.
Sherri wrote the foreword to Dr. Horowitz's music-industry-transforming book, The Book of 528: Prosperity Key of Love, and co-produced as a co-star Dr. Horowitz's controversial docu-comedy PHARMAWHORES: The SHOWTIME Sting of Penn & Teller, winner of the 2010 Accolade Award for "Uniqueness in Documentary Film-making." That film heavily influenced online video production for thousands of subsequent Internet producers. Sherri also stars in Dr. Horowitz's latest documentary, UN-VAXXED: A Docu-commentary for Robert De Niro. And Ms. Kane also co-wrote Space Pearl Harbor, reviewed in the 39-minute news program seen HERE.
Ms. Kane is the Vice President of Medical Veritas online journal, has published works in newspapers, magazines and many websites, and has been interviewed worldwide including on Al Jazeera's A9 Turkey, The Veritas Show, the BBC's Talk Radio Europe, Late Night In The Midlands, WAC Connecticut, LA Talk Radio, and many others. She co-hosts the Hollywood Spin series of film reviews with Dr. Horowitz viewed on RevolutionTelevision.net.
Sherri is currently collaborating with Dr. Horowitz on various projects including Healthy World Organization (HWO), the alternative to the corrupt World Health Organization (WHO), HealthyWorldAffiliates.com, and advancing the power of "528 Hz" frequency for global healing, as experienced at 528Records.com,  528Radio.com, and 528Revolution.com.
For their work together exposing devil-doing operatives in the media, Dr. Horowitz and Ms. Kane were christened "The HOROKANE" by their detractors.
E-mail inquiries to SherriKane@gmail.com.