Mass Mourners Pray for Divine Retribution Against Murderous Mob as Trump Acts to Protect Corrupted Officials
(JudicialCorruptionNews.com; Jan. 19, 2021)–Thousands of sympathizers mourning the manslaughter of the nation's leading corruption avenger, Sherri Kane, are praying for Divine retribution against law-enforcers who caused the journalist/activist's death.
As President Trump signed an Executive Order today, to conceal and harbor federal law enforcers–including corrupt judges and prosecutors (all Bar members) throngs of people fed-up with lawyers complicit in 'lawfare' and killing people, thousands of mourners from all religions, races, and creeds are praying for Divine justice in favor of Sherri's spirit, mission, and passion.
The Legendary Journalist/Activist Voice for the Voiceless
Sherri Kane's work is legendary. She weaponized her pen, books, videos, and two award-winning films, PharmaWhores: The Showtime Sting of Penn & Teller and Un-Vaxxed: A Docu-commentary for Robert De Niro. She personify heroism.
Kane is the epitome of a 'poster-girl against governmental corruption, especially judicial corruption, based on her huge impact. She opposed dozens of pedophiles, sex traffickers, drug kingpins, land thieves, bribed judges, corrupt prosecutors, sleazy politicians, and many of the most evil agents in criminal syndicates.
"Sherri, with the help of her friend, Barbara Hartwell–a CIA psychological operations defector and whistleblower–pulled the veil off the entire "Patriot Movement" and 'Conspiracy Theory Industry' exposing the intelligence agents and agencies creating it, including the FBI's COINTELPRO targeting activists including Dr. Martin Luther King, Jr. and Malcolm X.
This great woman on a civil rights mission to uproot injustice deserves this mass outpouring of prayer for 'divine retribution' or 'karmic relief.' This mass prayer vigil was originally requested by her partner and fellow consumer protector, Dr. Leonard Horowitz.
For more than a decade this couple had battled criminal injustice in the state and federal courts of Hawaii. Therein, members of "The Mob" stole their home, spa property, and life savings with the help of several corrupt lawyers, prosecutors, and judges.
While defending their interests, the couple discovered and exposed Paul J. Sulla, Jr.–a key drug trafficker poisoning people nationwide with the help of follow ayahuasca kingpin, Jeffrey Bronfman. The large 'enterprise' included America's leading neo-Nazi propagandists, vile white supremacists, and blatant anti-Semites whose smear campaigns worked to neutralize Horowitz and Kane.
The devil-doers dubbed the journalists, "The HOROKANE."
Kane's death from overwhelming distress was caused by the corrupted courts, prosecutors, and lawyers.
Her passing shocked dozens of fellow activists, journalists, broadcasters, intelligence agents, and retired law-enforcers. They began gathering in prayer following her death on January 7th. Notices and articles went viral on the Internet. Thousands of friends were drawn to pray from multiple groups on Facebook, Twitter, and Linked-in. They all joined Kane's subscribers on HealthyWorldNews.com; WarOnWeThePeople.com; ExposingVaccineGenocide.com; RevolutionTelevision.net; 528Revolution.com; and MedicalVeritas.org in which "Sherri" served with Dr. Horowitz as Associate Editor.
"People are fed-up with so-called 'law enforcement,'" Dr. Horowitz commented. "'Justice Department' officials, and 'intelligence agency' goons now generally serve Satan not citizens. They destroyed our 'One Nation Under God,' and preclude living on a healthy peaceful planet.  Sherri Kane knew this and dedicated her life to protecting people victimized by it, Horowitz explained.
Sherri Kane the Torch-bearer
Sherri Kane carried the torch for thousands of voiceless victims of the corrupted courts and justice system. She launched a dozen websites, including this JudicialCorruptionNews.com platform.
Sherri's "Conscious Species" channel on RevolutionTelevision.net became very popular, as did her Facebook groups including "Big Island Lost, Found and Stolen Pets," and her 'politically-incorrect' "PizzaGate group repeatedly blocked along with Sherri's own official website."
Sherri gathered millions of fans worldwide. Her celebrity attracted thousands of friends and subscribers before Facebook and Google began censoring her as well as her beloved partner, the doctor.  Sherri's superheroism was blocked, censored, and smeared repeatedly by Big Tech companies and covert intelligence agents years before such censorship, 'trolling' and gang-stalking became widely visible.
"Sherri paid the ultimate price, made the maximum sacrifice, to avenge the criminal psychopaths damaging and destroying humanity," the doctor explained. One-by-one she battled and defeated dozens of them."
"I thank God for the time God gave me to cherish, learn from, and work with Sherri. I see that even in Sherri's death she restores life and hope for those of us 'with eyes to see and ears to hear' the 'truth that shall set us free.' That is, the entire justice system is demonically-possessed now to administer America's destruction."
Why People are Praying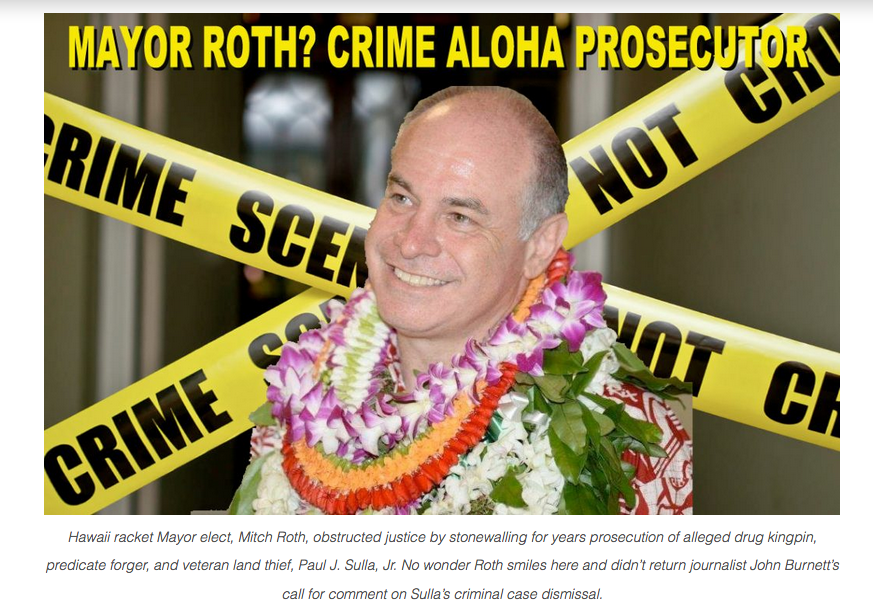 It is no 'coincidence' that as people began praying at Sherri's funeral in Philadelphia, her corrupt nemesis, Mitch Roth–the past-prosecutor and newly elected mayor of the Big Island of Hawaii–suffered a heart attack.
Roth had harbored a known criminal, drug trafficker, predicate forger, lawyer and land thief, Paul J. Sulla, Jr.
Sulla and his son had been indicted by grand juries for forgery and child pornography, respectively. These indictments corroborated Kane's claims and gave her false hope that justice would be administered. Then Roth, as prosecutor, dismissed the case against Sulla, dashing her hope of regaining her house stolen by Sulla.
"These facts justify the use of powerful prayer," according to Dr. Horowitz and hundreds of Sherri Kane's mourners.
"God's 'angels of retribution' need to be dispatched to administer 'the wrath of God' and 'Divine justice' since mankind's law-enforcement is thoroughly corrupt, unreliable, damaging and deadly," Dr. Horowitz charged. "'Righteous indignation' put into prayerful action, summoning the spirit of Archangel Michael to administer justice and the wrath of God is practices by every religion.
Here, this spiritual practice is being applied to Kane's death for the purpose of gaining justice and protecting similarly distress and damaged victims of Hawaii's criminal cartel. The 51 year-old crime avenger was murder by this mob, according to court and medical records.
How Long Will Prayers Continue?
Dr. Horowitz initially requested a week of prayer to petition God to dispatch Archangel Michael to supplement Sherri's spiritual mission to defeat the Hawaii corruption and gain justice and retribution against the devil-doers (including Mayor Roth, Lawyer Sulla, Judge Wendy DeWeese, Supreme Court Chief Justice Marc Recktenwald, and Recketenwald's disciplinary counsel 'gatekeeper,' Bradley Tamm). Then other mourners encouraged a longer observance.
Hawaii veteran activist, Melissa Yee, wrote: "In our Sukyo Mahikari practice (and buddhism) we believe the soul has 48 days to roam the Earth before it returns to the astral world. . . . [C]ount the days [from January 7th; and put a photo of Sherri on your prayer vigil alter] and then say a special prayer on the 48th; [that is, February 24, 2021]. Then put the photos away."
Inspired by Melissa Yee, Sherri Kane and Dr. Horowitz co-authored the book Space Pearl Harbor, and later their 2015 feature-length documenty SpaceGate: The Militarization of Sacred Mauna Kea. This production urged U.S. military officials and politicians to attend to the breach of National Security committed by Hillary Clinton and the Obama administration in transferring 'star wars' technology to China as part of the Thirty Meter Telescope scandal. The prophetic and accurate message, six years ahead of its time, has only recently been heralded by major media networks and considered by Congress.
"It's tough, but Sherri has completed her journey here. Let her do her work from the other side. Do not keep her earthbound. Take all the time in the world to grieve, but release her spirit by day 48," Yee urged.
Nearly forty commentaries and tributes to Kane from mourners are published HERE, wherein Dr. Horowitz replies to most of them. Hundreds of more were received.
The doctor encourages Sherri Kane lovers not praying to spread the following articles:
Hawaii Mob Murder of Legendary Activist Sherri Kane: Auto-Obituary Foreshadowed Manslaughter
The Sherri Kane Obituary Written by Sherri Kane. and Barbara Hartwell's tribute:
In Loving Memory of Sherri Kane: Tribute to a Warrior for Justice
–End–