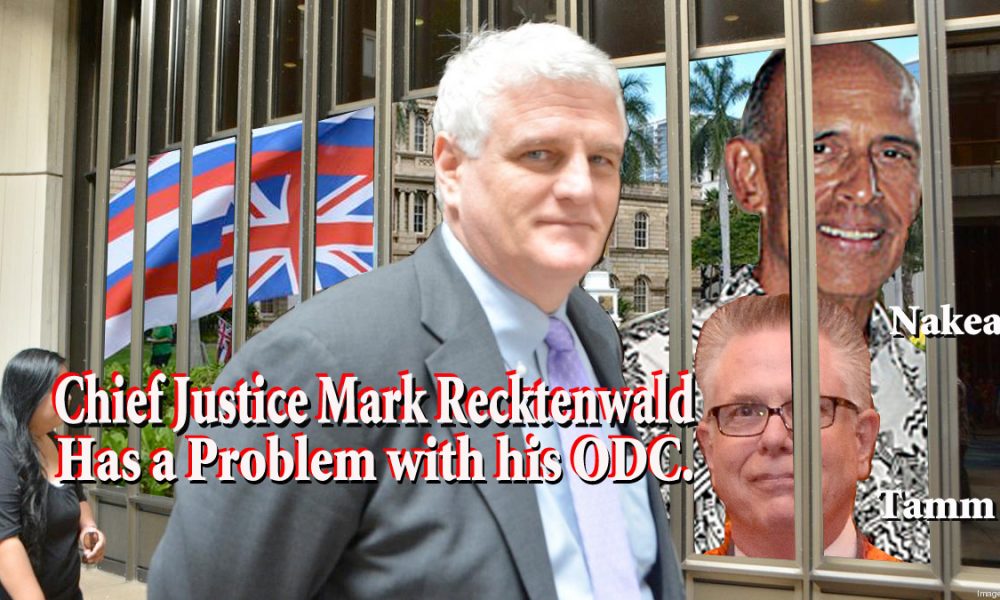 NEWS RELEASE
Release: No. Tamm ODC 2
Date Mailed: Jan. 8, 2019
For Immediate Release
Contact: Editor@MedicalVeritas.org
Celebrity Doctor Whacks Supreme Court of Hawaii Disciplinary Judge Clifford Nakea for Undermining Official Investigations
Honolulu, HI – The Chairman of Hawaii's Supreme Court Office of Disciplinary Council ("ODC"), Judge Clifford L. Nakea, is accused of subverting the agency's investigations of a judicial racket involving several lawyers, including nationally known foreclosure attorney, Gary V. Dubin. The iHeart radio celebrity is accused of ripping clients off and conspiring with a self-admitted hallucinogenic drug maker–Paul J. Sulla, Jr, who stole a health spa owned by a celebrity doctor.
The main victim and witness, Dr. Leonard Horowitz, filed the complaint as a social service.  The internationally-respected consumer protector, public health advocate, and award-winning filmmaker has witnessed thousands of Hawaii citizens getting ripped-off by foreclosure fraud and rampant judicial corruption in Hawaii. Lawyers Dubin and Sulla stole the doctor's house, and Nakea and his subordinate, ODC Director Bradley Tamm, acted to conceal their liability after evidence was requested by ODC investigators trying to do their jobs.
Journalist Sherri Kane, the doctor's partner, was asked by ODC investigators to submit evidence against Dubin involving Sulla after the Supreme Court Chief, Mark Recktenwald, denied the ODC's earlier action to disbar the iHeart radio foreclosure advisor.
Kane submitted evidence of Dubin and Sulla's false filings with the state and courts. Bradley R. Tamm, Nakea's appointee directing the ODC, instantly dismissed Kane's submissions with no investigation, concealing the incriminating evidence.
Horowitz then filed a complaint against Tamm who, incredibly, had acted in favor of Sulla during Horowitz's bankruptcy caused by Sulla's and Dubin's conspiracy to steal the whistleblower's spa property.
After fighting in multiple courts for a decade, diverting the doctor's career in public health, the doctor learned the entire Hawaii judiciary was acting illegally–beyond legislated authority and ethics rules, plus operating secretly without jurisdiction in actions against fellow judges and their appointees.
Nakea had appointed Tamm, who currently oversees the ODC. Nakea instantly dismissed Horowitz complaint without required review or investigation to protect himself as well as Tamm.  Nakea appointed Tamm knowing he had been previously disbarred in California for substance abuse, embezzling clients' money, and a list of ethics violations.
"That's how you secure the mob's confidence in Hawaii," Horowitz explained. "You get caught in crime, make a deal, and keep doing what the bosses demand."
Horowitz is accusing Nakea of aiding-and-abetting Tamm's complicity in Dubin's and Sulla's theft scheme by willful blindness, evidence tampering, multiple ethics violations, and knee-jerk ruling to dismiss his and Kane's complaints with bias, prejudice, and conflicting interests.

"Hawaii judges have the worst reputations in the United States," the doctor noted, referencing a 2016 study by the Brennan Center for Justice that found Hawaii the only state in America insulating judges from legislative, executive, and public scrutiny. [1]
"Corruption here protects Sulla's huge drug trafficking operation," Horowitz added. "Sulla is the main kingpin supplying 'ayahuasca'–the new 'designer LSD'–to the mainland."
The courts and prosecutors in Hawaii have repeatedly defied police and FBI requests for Sulla's prosecution. Nakea and Tamm, like every judge involved thus far, acted blind to Sulla's verified set of forgeries discovered by County of Hawaii officials and confirmed by FBI agents. Sulla forged the docs to steal property used to launder drug money.
Kane gave another example of rampant fraud in Hawaii's courts published in JudicialCorruptionNews.com. "Generally, honest judges and lawyers join all parties who hold interests in contested properties. Otherwise, you risk losing everything and gaining nothing. That's like fighting against a phantom in a rigged court. The Supreme Court of Hawaii's Intermediate Court of Appeals, and three lower courts, have refused to join Sulla 9 times over the last 8 years, defying this most basic 'Rule 19' requirement to administer justice."
As one FBI investigator concluded, 'The judges are doing this. They have permitted Sulla to steal the property by forgery."
Meanwhile, criminal complaints filed by multiple police investigators against Sulla have been repeatedly stonewalled by Hilo prosecutor, Mitch Roth, who secures the "Drug Court" in Hawaii's contraband capital.
"The planes and ships are leaving Hilo and Honolulu with Sulla's DMT. Then there's meth and marijuana. No one stops it," Kane complained.
Hawaii is a Democrat-controlled gateway for drug smuggling from Asia and Mexico to the mainland. The local mob's racket is opposed by President Trump's border security bill. Yet hypocritically, the state's chief law enforcers have permitted Hawaii's booming drug and human trafficking trade ever since the Opium Wars more than a century ago. Then, Anglo-American merchant mariners and their 'Big Five' companies took over the islands after devastating China. Then they poisoned Hawaii's Chinese population with opium. Today, $1 billion annual income is projected to damage America's youth from Sulla's supply enterprise alone.
"They're not going to get-away with this," said Horowitz. "Not in the court of Divine Justice, nor in the Court of Public Opinion. We'll make sure of that."
Horowitz and Kane both acknowledge ProSeLegalAide.com for help in opposing judicial corruption. The service offers a 30-day free trial and is geared to defend against corrupt judges and lawyers nationwide, Kane says. "This is most useful in Hawaii."
The doctor's most recent articles are found on MedicalVeritas.org and 528Revolution.com.
–End–
References & Updates
[1] Cutting C. The Aloha State: A Model for Selecting Judges? Brennan Center for Justice. Sept. 6, 2016. Online  at: https://www.brennancenter.org/sites/default/files/blog/Judicial_Retention_in_Hawaii-A_Case_Study.pdf

[2] Click to download a pdf of:

COMPLAINT w- Exhibits 1-21 to Ethics Commission et al RE- Bradley Tamm 12-13-18

[3] Click to download a pdf of Dr. Horowitz's

ODC Complaint against Clifford Nakea w/ Exhibits filed 1-7-19

[4] Click for a pdf download of:

ODC v Dubin Original Memorandum in Support of Petition 035327230

. [5] Click for a pdf download of:

Supreme Court Ruling in OCD v Dubin Petition for Suspension Denied Aug 13 2018

[6] Click for a pdf download of:

Bradley Tamm's California Disciplinary Private Reproval File,

including details evidencing alcohol and "self medication" record, embezzlement of clients' money, evasion of making restitution payments to his victims, and unemployment and homelessness at the time he was taken in by the Honolulu Chapter of the Attorneys' and Judges' Support Group . . . sponsored by the Supreme Court of Hawaii . [7] Click for a pdf download of: Complaint to Judge Gerald Y. Sekiya, Chair, Commission on Judicial Conduct with Exhibits 1-12, mailed 1-9-19, objecting to the Intermediate Court of Appeals

Judges Ginoza, Fujise, Leonard, and Reifurth's "pattern and practice of HRCP Rule 19 violations, and HRCJC violations of Rules 1.2, 2.2, 2.3, 2.4(b)(c), 2.5(a) and 4.1(a)(12)

, pursuant to four Orders denying the joinder of proper and jointly liable party Paul J. Sulla, Jr. in CAAP 16-0162; 16-0163; and 18-0584. " [8] Click for pdf download of

ODC Dismissal of the Complaint Horowitz filed against Nakea, issued by ODC Vice Chairman, Jeffrey P. Miller 1-11-19

. [9] Click for pdf download of

Supreme Court Chief Justice Recktenwald's

recusal (of 1-8-19) to avoid an impression of bias or conflicting interest, in direct conflict with the ODC's dismissals of the Complaint against Tamm claiming bias, conflicting interests, obstruction of justice, evidence tampering, and complicity in theft of Dr. Horowitz's property. At the same time Judge Recktenwald converted the Complaint to a Writ of Mandamus, assigned Case No. SCPW-19-0000035, and directed First Circuit Judge James H. Ashford to adjudicate the case in the Supreme Court of Hawaii.

<!-comments-button-->